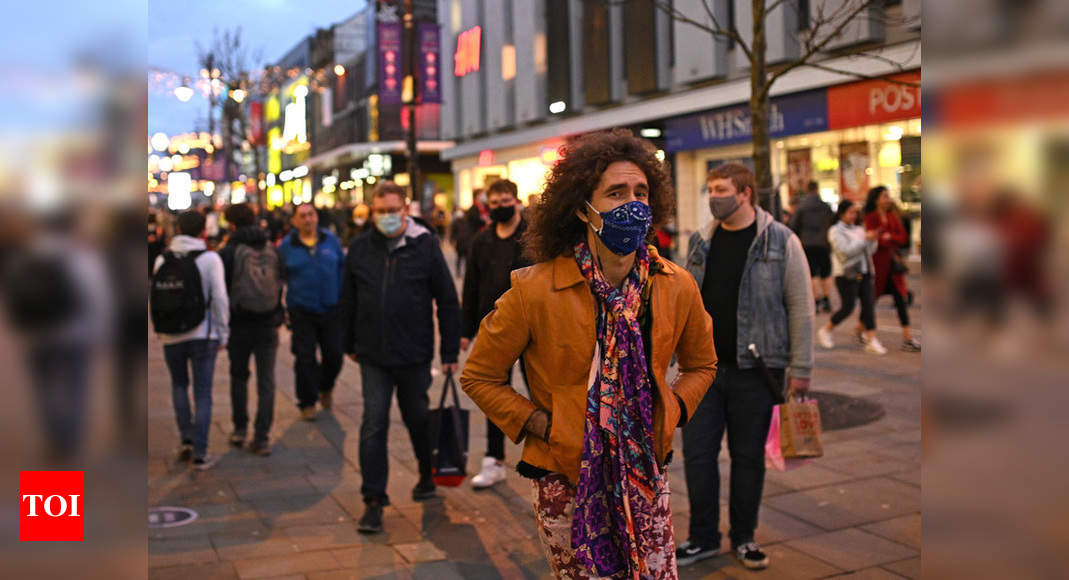 LONDON: UK Health Secretary Matt Hancock said Sunday that the government in London and the south east of England had put a strict Christmas lockdown on because a new strain of the coronavirus was "out of control".
Hancock warned that tough measures, which affect nearly a third of the UK population, could remain in place until the viral vaccine is fully implemented.
"We acted very quickly and decisively," Hancock told Sky News, explaining the "stay at home" order, the ban on family gatherings over Christmas and the closure of non-essential businesses.
"Unfortunately the new strain was out of control. We have to get it under control."
Covid Pandemic Live Updates
Prime Minister Boris Johnson announced on Saturday that millions will have to cancel Christmas plans and stay home because the new strain is spreading much faster.
Around 16.4 million people took part in the strictest "Tier 4" measures as of Sunday, which corresponds to 31 percent of the English population.
They are not allowed to hold family reunions at Christmas, while in the rest of the country households can get together on Christmas Day alone.
The London Metropolitan Police said they would take action against those who "make reckless decisions that risk lives".
Other UK regions have also stepped up their anti-virus measures in response.
Wales put a strict lockdown starting Sunday, while Scotland banned travel to and from other regions of the UK at Christmas. Both Scotland and Northern Ireland will be locked again on December 26th.
Hancock told Sky News the situation was "dead serious".
"It will be very difficult to keep it under control until we get the vaccine in place," he said, adding, "This is what we have to do in the next few months."
The UK is hoping to hit half a million vaccinations over the weekend, the health minister said.
Scientists first discovered the new variant in a patient in September, Public Health England's Susan Hopkins told Sky News.
She said scientists found out in November that the new strain was behind a number of cases in Kent and is spreading to London and Essex, and informed the government on December 11th.
Public Health England then re-announced to the government Friday when the modeling revealed the full seriousness of the new strain, she said.
She confirmed the number given by Johnson that the new strain of the virus could be 70 percent more transmissible, while she said this was an initial number.
"I think 70 percent seems like a good number to land on right now," she said.
The virus was found in all regions of England, but in small numbers, Hopkins said.
Cases have also been identified in Australia and Europe, according to Hancock.
Patrick Vallance, the government's chief scientific adviser, said Saturday that the new strain "contains 23 different changes," including the way the virus attaches to and penetrates human cells.
London Mayor Sadiq Khan told Sky News that London now has as many inpatients with the virus as it did at the height of the first wave in April. The cases have also grown rapidly among 10 to 19 year olds, he said.
Paul Hunter, a professor of medicine at the University of East Anglia, told the Observer weekly, "If this new variant is behind the rise in this age group, it's a big concern."
The grave situation led to widespread criticism of the prime minister who promised last week not to "cancel Christmas".
"Not much was understood about this mutated virus. But that uncertainty should have been enough for the Prime Minister to realize that it was time to end Christmas," The Sunday Mirror wrote weekly.
Union leader Keir Starmer said in a video statement: "We have a prime minister who is so afraid of being unpopular that he won't be able to make difficult decisions until it's too late."
No flights
European countries have started banning flights from the UK as the London government warned of the new strain.
Following the example of the Netherlands, where a ban on all British passenger flights went into effect on Sunday, a German government source also considered a similar move as a "serious option" for flights from the UK and South Africa.
The Dutch ban took effect from 6:00 a.m. (0500 GMT) and will last until January 1st. Neighboring Belgium also announced that it will suspend arrivals of flights and trains from the UK from midnight