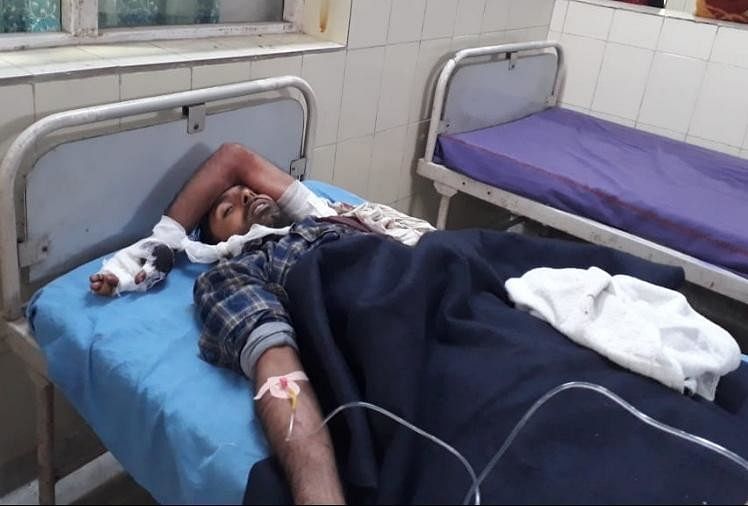 Person injured in firing in Karnal.
– Photo: Amar Ujala
On Wednesday morning, in the presence of the police over a land dispute in the village of Gagasina in the Munak police station area of ​​Karnal, one side rammed the other side and killed three people. Nine people were injured there. In which the condition of two people is serious. The attackers fired several rounds and escaped waving weapons.
The injured have been admitted to the government hospital in Gharaunda and referred two seriously injured persons. Angry relatives did not allow the dead bodies of the two dead present at the scene to be picked up. Holding the police administration responsible for the incident, they were adamant on suspending the Moonk police station in-charge and arresting the killers.

After about five hours, SP Gangaram Punia reached the spot and on the demand of the family, the police station in-charge SI Kuldeep was suspended and directed to investigate. The villagers then let the dead bodies be picked up. Due to the tension in the village, a heavy police force has been deployed. At the same time, on the complaint of Virendra, a case was registered against 38 people of one side who fired on various sections including murder.
Controversy over a quarter of an acre
File photo of Dilbag, Praveen and Balraj.
In the village Gagasina, there has been a dispute between the two parties over a quarter of an acre of land for a long time. In July, there was a quarrel in the Electricity Corporation office between the two ports over the installation of electric poles and a case was registered in the Gharaunda police station.
Balraj, Praveen, Dilbag, Dhan Singh, etc. of Kisna Paksha on Wednesday morning arrived with JCB to dig the foundation on that land and started digging in the presence of police. But on that ground, accused Rammehar erected a wall in front of his house. When the people from whose side started demolishing that wall, there was a fight.
Accused Yudhveer, Jasbir, Randhul, Rammehar and others fired. Due to which Balraj (55), Dilbag (55), Praveen (25) were killed and Dhan Singh, Dayanand, Rupchand, Balindra, Sultan, Naveen, Surendra, Lakhvindra and Harvindra were injured. During the firing, Moonak police station in-charge SI Kuldeep was also present on the spot along with other police personnel.
In the land dispute, one side opened fire on the other side. Due to which three people have died and some are injured. The family members have accused the police station in-charge of not taking action. Therefore, he has been suspended and ordered an inquiry. On the complaint of family members, a case has been registered against about 38. Gangaram Poonia, SP Karnal.
read ahead
Controversy over a quarter of an acre