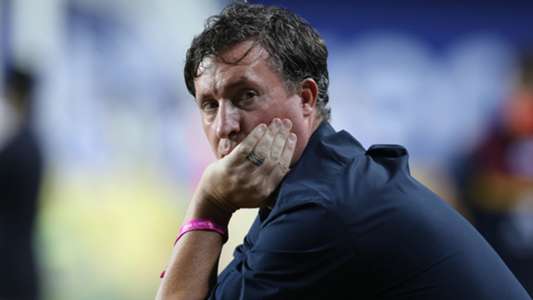 East Bengal head coach Robbie Fowler said his squad has been recruited to the I-League but the players now have to prove their worth in ISL …
East Bengal head coach Robbie Fowler believes that his current squad has been recruited with the I-League in mind and that players need reinforcement to reach the level required by the Indian Super League (ISL).
His team suffered a 3-2 defeat against Hyderabad at the 2020/21 ISL clash at the Tilak Maidan in Goa on Tuesday.
The Kolkata giants led at halftime after Jacques Maghoma broke the impasse in the 26th minute. Aridane Santana scored twice in the second half and Halicharan Nazaray scored the third to make an impressive comeback. Maghoma pulled one back for East Bengal in the 81st minute but it wasn't enough to help the team add a point to their record.
Fowler didn't say a word about his team's performance. The red and gold medals are without a win after five games and are currently at the bottom of the table
"I just think we're a team built for the I-League. The recruiting process for this team was for the I-League and then we catapulted ourselves to the ISL. Now the players have to show they are good enough are for the ISL, "said Fowler after the game.
The 45-year-old also said that East Bengal has shown that they can score goals but need to focus better on the games.
"We could do a lot better. We scored a couple of goals, which is obviously positive for us. We have shown that we can score and now we need to improve our concentration. You conceded two goals 10 minutes after the break. " Obviously that's not what we wanted. We started well, took a tour and just switched off. "
He added: "Well, I think we obviously need to improve massively. Look, it's not over yet. We have a lot of points to play. We still have a lot of achievements in us. See from this team formation and the players we do busy. I'll talk to the players. Some of them are doing themselves no favors right now. "
Fowler also urged his players to focus on the next few games rather than ruining the defeat as he believes things can still be changed.
"We have to choose ourselves. It's not about watering and crying. We just have to move on. We have to take it, it can be changed, we have to get better. We have to be sensible. We have to be." Cleaver, "said the manager of East Bengal.
After their first win of the season, East Bengal will face Kerala Blasters on Sunday.