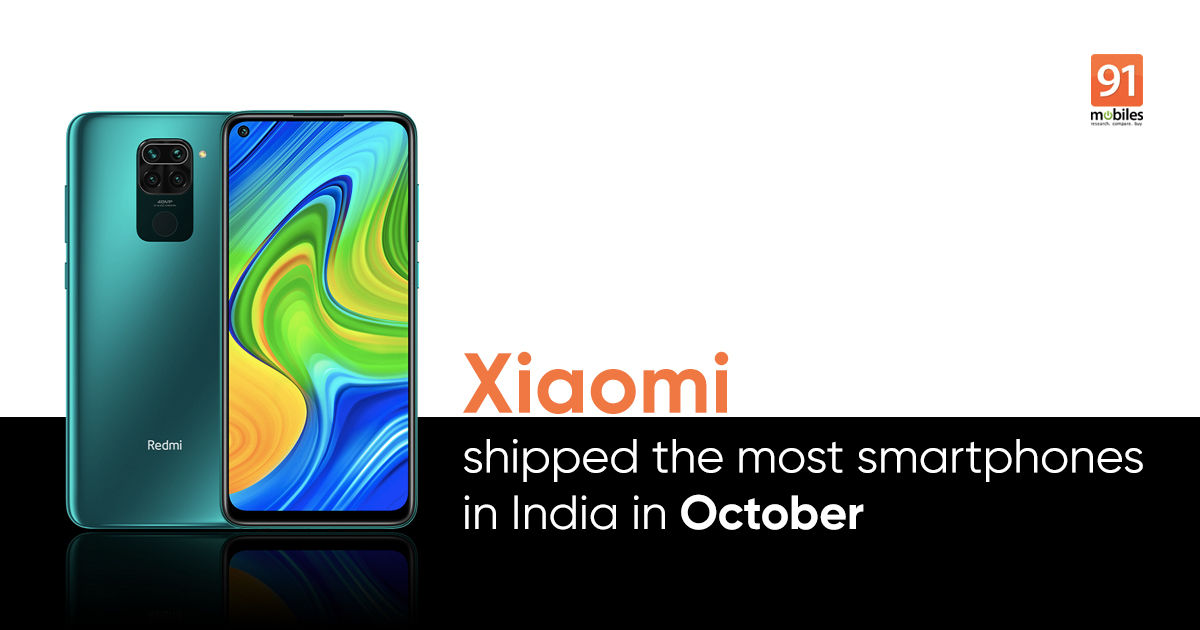 According to the latest data from IDC, Xiaomi retained the top spot in the Indian smartphone market in October. The data shows the company shipped a total of 5.5 million units for the month, compared to 3.9 million units in the same month last year. It has secured a market share of 24.8 percent and recorded growth of 38.1 percent over the previous year. Samsung is in second place with a market share of 20.6 percent despite strong growth of 42.2 percent and has shipped 4.5 million units. Total Indian smartphone shipments in October were up 42 percent year over year. A total of 21 million units were delivered.
According to IDC, Vivo ranks third with 3.9 million units in October compared to 2.9 million in 2019. Realme ranks fourth as it could ship 3.0 million units, a 48.2 percent growth corresponds in October and is also the highest among all brands. OPPO took fifth place with 2.7 million units, a growth of 40.2 percent compared to the previous year. Other brands accounted for 2.4 million units. According to IDC, the growth in India was driven by the surge in online sales and high demand in the third quarter of this year. Notably, the units shipped in India are the highest in October and the second highest in a month after 23 million units in September of this year.
According to IDC, the growth in India was driven by the increase in online sales and high demand in the third quarter of the year.
Best seller in October in India
The report goes on to say that phone purchases between 8,000 and 16,000 rupees are up 60 percent year over year. Redmi 9, Redmi Note 9 and Vivo Y20 were the best-selling models in this segment. Apple led the premium segment (Rs 35,000 to Rs 50,000) in India with year over year growth of 16 percent in October. iPhone XR, iPhone 11 and OnePlus 8 were the most popular models in this segment. Revenue was driven by affordability programs and offers.
Up to 68 percent of smartphones sold in October were under $ 200 (about 15,000 rupees). Xiaomi led the budget segment while Samsung led the $ 200-300 range (roughly Rs.15,000-22,000). This price range made up around 25 percent of all smartphone sales in the reporting period. The premium segment (over $ 500,000 / Rs 35,000) accounted for 5 percent of total sales in October, with Apple being the top brand in 49 of the 50 largest cities.
5G smartphones sold 5.00,000 units in October, with 80 percent of the units bought in the top 10 cities. IDC India's market analyst, Sachin Mehta, said in the report that "uncertainties about spectrum availability, clear use cases and high prices" could limit sales of 5G smartphones in some major cities.
Cities drive growth
Cities like New Delhi, Mumbai, Bengaluru, Chennai, and Kolkata accounted for up to 25 percent of sales, with e-learning increasing demand in the larger cities. Sales in Jaipur, Gurgaon, Chandigarh, Lucknow, Bhopal and Coimbatore rose 50 percent. In other regions, however, demand rose an average of 25 percent due to economic concerns and consumer spending that focused only on the essentials. The 50 largest cities accounted for 55 percent of national demand.
Online versus offline
Online platforms were the main source of smartphone sales as they accounted for 50 percent of total sales. This is a growth of 23 percent compared to the previous year. Supply chain restrictions for offline sales due to fewer walk-ins in October.
Xiaomi was the top online brand in 34 of the top 50 cities in October 2020, while Vivo was the most popular offline brand in 44 of the top 50 cities.