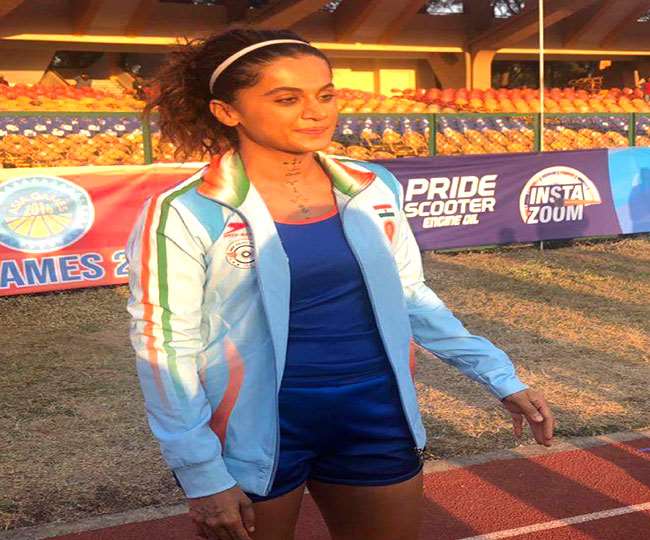 Bollywood actress Taapsee Pannu in Ranchi After shooting for the film Rashmi Rocket in Ranchi's Moharbadi, the Bollywood actress took to Twitter to praise Ranchi's beauty. Chief Minister Hemant Soren then tweeted and thanked him.
Ranchi, Taapsee Pannu in Rashmi Rocket is a wonderful attraction in Ranchi's climate. Every person who comes here is bound by its magic. Bollywood actress Taapsee Pannu also has the magic of the beauty of Ranchi. Bollywood actress and actress of the upcoming film Rashmi Rocket, Taapsee Pannu has praised Ranchi city. After shooting his film in Ranchi's Morhabadi, he wrote on his Twitter account that it was a great experience to shoot in Ranchi. He wrote that I came to this city for the first time and am taking good memories from here. The litti chokha here also has a great taste. The stadium and track here is amazing.
CM Hemant Soren said thanks, said – focus is on sports and tourism
Chief Minister Hemant Soren has thanked him after Taapsee Pannu's tweet. He wrote in tweeting that PRD Jharkhand is happy to host you and your team. The Chief Minister has written on Tapsi's tweet that our government is fully focused on the welfare of sports and sportspersons in the state. It is also working for the development of tourism and especially eco-tourism in Jharkhand.
Tapasi retweeting the Chief Minister's tweet said that it would be a pleasure for me to have a chance to come back here in future and to shoot more films in this state. Please tell that Taapsee Pannu lived in Ranchi for about a week. During this time he shot the film Rashmi Rocket here. Rashmi Rocket is the story of an athlete who struggles under adversity to achieve achievements.
Download Jagran app and get job alerts, jokes, shayari, radio and other service with all news of news world