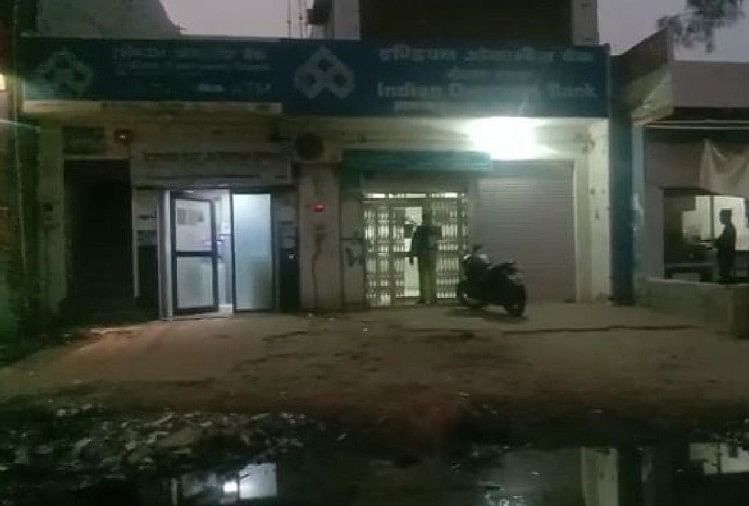 Indian Overseas Bank robbed in Agra: robbed in this branch
– Photo: Amar Ujala
abstract
The miscreants robbed 57 lakh rupees by holding employees hostage
Four miscreants took action in 15 minutes, also took DVR of CCTV
Detailed
Four miscreants robbed the officers and employees of 56.94 lakh by taking hostages of officers and employees at the Indian Overseas Bank branch on Rohtha on Gwalior Road in Agra. At 4:50 pm on Tuesday, miscreants who came armed with knives and knives committed an adventurous act in 15 minutes. A crook stood outside. Locked the bank staff in the toilet before running away. After this, DVRs of CCTV were also taken along. Police arrived half an hour later, checking across the city, but no clue of the robbers was found.
Deputy manager Vivek Yadav said that the bank (main gate) of the bank was closed at 4 pm. At 4:50, he came out to check the connectivity of the outside ATM, when a rogue with a monkey cap came fast and stabbed him on the chest. The crook took them inside the bank. Three more crooks followed him. Two had guns and one had a knife.

The miscreants took a dig at manager Anita Meena, cashier Prashanki Baghel and clerk Shashank Veeresh. Then the currency chest was opened and the cash was removed and kept in the deputy manager's bag. Also took cash kept with the cashier. A total of Rs 56.94 lakh was looted. The miscreants then locked the deputy manager and others in the toilet. About 20 minutes after the miscreants left, a woman named Saroj came to know about the loan, she opened the toilet gate. The manager then informed the police.
'I will shoot if I make noise …'.
Deputy manager Vivek Yadav said that the miscreants collected the entire staff at one place as soon as they came inside the bank and threatened to shoot if someone made a noise. One crook said that do not manipulate, as much as cash is required.
Crooks seen in cameras of neighborhood clinics
The bank has a doctor's clinic at par. In its cameras, crooks are seen going by bike. The police have taken the recording. However, it does not have clear faces of miscreants nor the number of bikes. Puneet, a peon of the bank who had gone for tea before the incident, returned long after the miscreants had left. He is questioned by the police.
Senior Superintendent of Police Bablu Kumar said that four teams have been set up in search of bank robbers. The crooks involved in the old incidents of bank robbery are also being investigated.
read ahead
'I will shoot if I make noise …'.