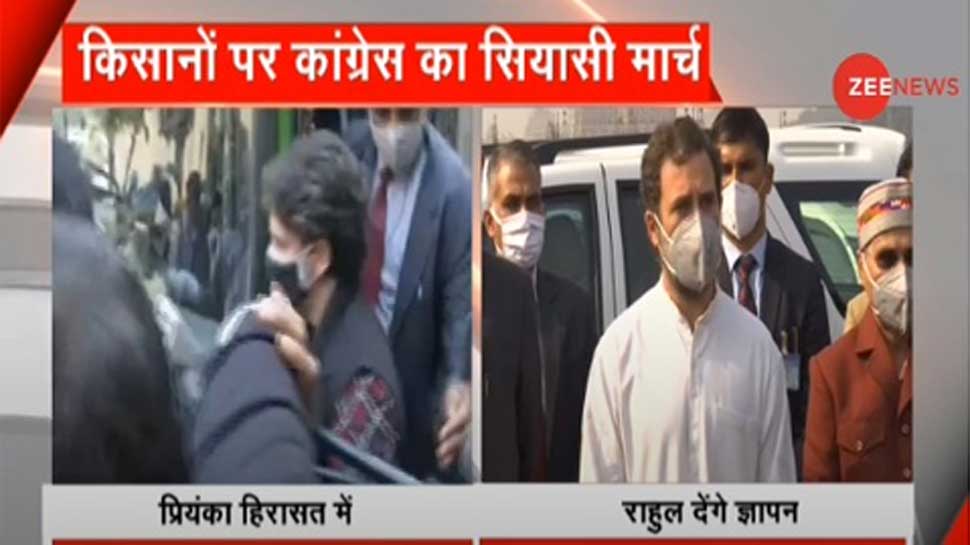 new Delhi: (Priyanka Gandhi in Custody) The Delhi Police stopped the march of Rahul Gandhi and other Congress leaders, who were going to hand over the signature of 2 crore people to President Ram Nath Kovind in protest of the Agricultural Laws. During this time, Delhi Police took custody of Congress General Secretary Priyanka Gandhi Vadra and other Congress leaders. After this, the police took Priyanka Gandhi and other leaders in a bus. However, he was released after a while.
Rahul Gandhi attacked the center
Explain that in support of the farmers, all the Congress MPs were going to meet President Ram Nath Kovind while walking on foot from Vijay Chowk in Delhi. During this time the Delhi Police stopped the Congress leaders, while Rahul Gandhi and only two leaders were allowed to go to Rashtrapati Bhavan. Rahul Gandhi met the President and submitted a memorandum. After this, Rahul Gandhi fiercely attacked the central government regarding the agricultural laws.
Government should immediately withdraw the laws: Rahul
Rahul Gandhi said, 'We have told the President that farmers are going to be harmed by these laws. The country is seeing that the farmer is standing against the law. I want to tell the Prime Minister that the farmer will not move, no one will go back till the law is returned. Rahul Gandhi said, 'Government should call a joint session of Parliament and immediately withdraw these laws. Rahul said that today farmers are in sorrow and pain, some farmers have also died.
live TV
Discontent was described as a terrorist element: Priyanka
Congress General Secretary Priyanka Gandhi said, 'Any dissent against this government has been classified as terrorist elements. We are doing this march to raise our voice in support of farmers. He said, 'The young man is the son of the farmer, who is rejecting the voice of the farmers and is adamant on his stubbornness, while the Annadata of the country is sitting outside in the cold. Is the young man in this government's respect for the farmer or just his politics, respect for his capitalist friends? '
Farmers have been demonstrating since 29 days
Explain that the farmers' protest against the Agricultural Laws (Farmers Protest) continues on the 29th day and the farmers are constantly demanding the withdrawal of the laws. There does not seem to be a consensus between the agitating farmers and the government. The agitating farmers have made a clear announcement that they do not want amendment and discussion is not possible without the withdrawal of agricultural laws. Along with this, there is a demand of farmers that the government enact laws on MSP. On the other hand, the government is trying to tell that the new law is in the interest of farmers and most farmers understand it.