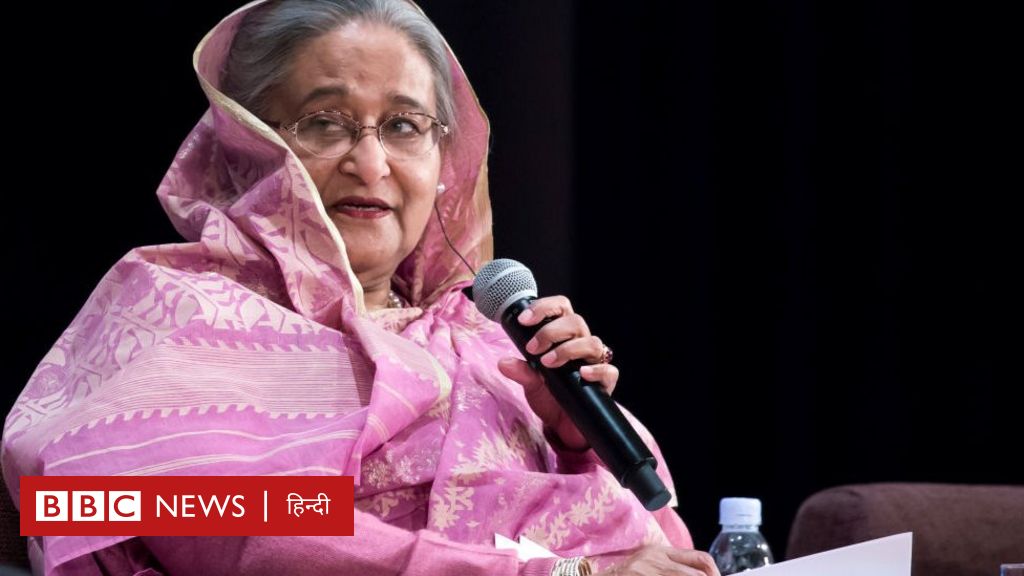 Bangladesh Prime Minister Sheikh Hasina said on Wednesday that people of all religions have a shared history of sacrifice in the Liberation War.
Hasina once again assured that no one will be discriminated against in the name of religion in Bangladesh.
Hasina said, "People of all religions have sacrificed their blood in becoming Bangladesh and will live in this country with equality."
On the occasion of Bangladesh's Victory Day, Prime Minister Sheikh Hasina, while addressing a virtual meeting, said these things from her official residence in the capital Dhaka.
The Awami League organized an event at its central office at 23 Bangabandhu Avenue.
Addressing the meeting, Sheikh Hasina said, "An attempt was made in Bangladesh to debate the idols and especially the idol of Bangabandhu. But Bangladesh is a country with non-communal thinking. Here people of all religions have the freedom to follow their religious customs and our government works with this will. "
Hasina said, "We learn the same from Islam and Prophet Mohammad. We should face every situation with patience and that is our duty. Our main goal is to pay attention to what we can do for the country and not who said what.
Recently, Junaid Baboonagari, the new head of Bangladesh's fundamentalist Islamic group Hazrat-e-Islam, said that all the idols of the country will be demolished and no matter whose idol belongs to whom. Hazrat-e-Islam opposed Bangabandhu Sheikh Mujibour Rahman's 100th birth anniversary.
Sheikh Hasina asked Awami League leaders and activists to strengthen the party. He said that there is a need to spread the thoughts of the Father of the Nation to Bangladesh.
On the decision of UNESCO to give an international prize in his name in honor of Bangabandhu, Sheikh Hasina said that this is a great gift for the nation of Bangladesh on Mujib's birth centenary.
The UN has decided that the 'UNESCO-Bangladesh Bangabandhu Sheikh Mujibour Rahman International Prize' will be introduced and given in the field of creative economy and industry, which provides employment to youth, women and expatriates globally. The Executive Board of UNESCO accepted Bangladesh's proposal in this context.
This is the first time the United Nations has decided to give international honors in the name of Bangabandhu. Prize will be given every year and its amount will be 50 thousand dollars.
Sheikh Hasina's religious harmony
In the year 2018, on the occasion of Durga Puja, Bangladesh Prime Minister Sheikh Hasina gave 1.5 bighas of land to Dhakeswari Hindu Temple in the capital Dhaka.
He fulfilled the demand of Dhakeswari temple six decades ago. To maintain the old form of the temple, land was being demanded.
Even before this, Sheikh Hasina has assured maintenance of temples. After this gift, his image as an advocate of the rights of minorities in Muslim-majority Bangladesh was being said to be stronger.
Sheikh Hasina went to Dhakeswari temple on 15 October 2018. It was here that he announced to give 1.5 bighas of land as a gift. This land is present near the temple. The price of this land has been estimated at Rs 43 crore.
Dhakeshwari is the largest temple in Bangladesh and the capital Dhaka is named after it. The temple had been trying to buy land for the last several years, but difficulties were coming in due to the price being too high.
According to the Dhaka Tribune, Sheikh Hasina said in the temple, "We have already taken steps to solve this problem." Now further work is on you.
But, now the Hasina government has given land to the temple at a cost of 10 crores of taka with an exemption through mediation. He also decided to increase the fund of Hindu Welfare Trust from 21 crores to 100 crores.
Power of bangladesh
There was a time when Bangladesh (at that time it was called East Pakistan) was the poorest area of ​​Pakistan. Even after independence in 1971, Bangladesh remained in severe poverty. From 2006 onwards, the dust of Bangladesh's image began to wane and overtook Pakistan in the race for progress. Bangladesh's annual GDP growth rate surpassed that of Pakistan by 2.5%.
Export of garments made in Bangladesh is growing at the rate of 15 to 17 percent per annum. In the month of 2018, exports of garments reached $ 36.7 billion by June. Hasina aims to raise it to $ 39 billion and when Bangladesh celebrates its 50th anniversary in 2021, that figure will reach $ 50 billion.
About 2.5 million Bangladeshis working abroad also have a big role in Bangladesh's economy. Those who send and earn money from abroad are increasing by 18% annually and reached $ 15 billion in 2018. The readymade textile industry is considered to be the biggest role in the success of Bangladesh. The textile industry provides maximum employment to the people of Bangladesh. The textile industry employs 40.5 lakh people in Bangladesh.