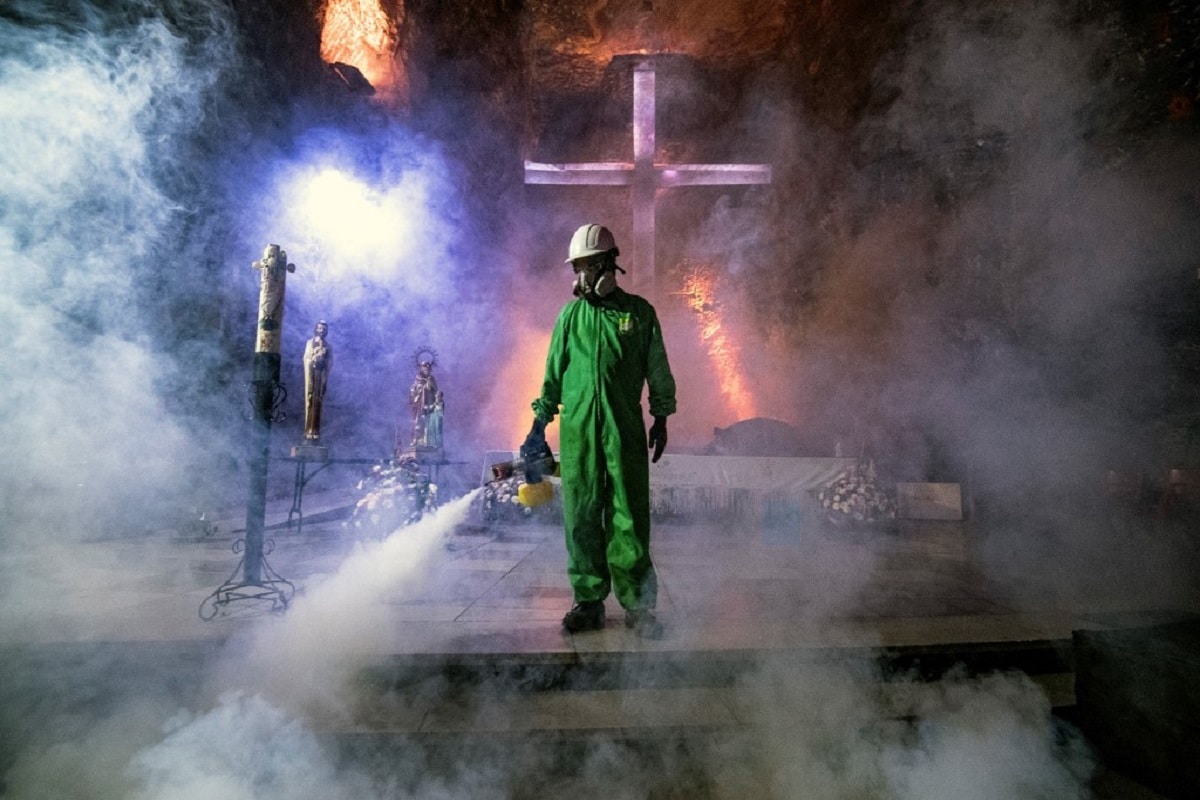 Lockdown announced after new type of corona virus found in Britain (Photo-AFP)
Coronavirus Update: A new type of corona virus has been found in the UK (UK) which is believed to be much more contagious than normal. After the introduction of this new virus type, strict lockdown has been announced in London and many surrounding areas from Wednesday.
News18No

Last Updated:
December 15, 2020, 7:15 AM IS
London.
A new type of Covid-19 has been attributed to new cases of Coronavirus growing rapidly in the UK. This new type of corona virus is responsible for the increase in new cases of corona again in Britain and many other countries of Europe. Due to the identification of a new type of corona virus, strict lockdown has been announced in London and its surrounding areas from Wednesday.
Health Minister Matt Hancock told MPs in the House of Commons that in these areas, cases of this deadly virus infection are increasing at double the rate in just seven days, so immediate and decisive action was needed. In such a situation, 'Tier-3' level restrictions will be implemented in London and its surrounding areas, which means almost complete lockdown. Hancock said, "A new type of corona virus has been identified in Britain that may be the cause of the rapid spread of the virus in southeast England." He said that about 1000 cases related to this new type have been identified by experts.
Medical personnel will start Kovid-19 vaccination campaign
Let me tell you that health centers in the UK started receiving the first batch of Pfizer / Bioentech vaccine that competed with Kovid-19 on Monday and will start vaccinating from this week. Earlier, at-risk groups of elderly and frontline corona warriors are being vaccinated. According to the National Health Service (NHS), vaccines are being supplied at more than 100 such centers in the country, some of which are starting their vaccination campaign on Monday itself. The rest will begin vaccination on Tuesday. NHS Primary Health Care Director Dr. Nikki Kanani said, "General practitioners, nurses, pharmacists and other primary health care workers are eager to join the campaign to protect people from the corona virus." He said that this would be the largest vaccination program ever run by the NHS.
Largest vaccination campaign started in US history
On the other hand, the largest vaccination campaign in American history began on Monday. The vaccine of Kovid-19, developed by pharmaceutical company Pfizer and its German subsidiary Bioentech, has started being given to health workers. So far, three lakh people have died in the US due to Corona virus and the highest number of infections have been reported. A nurse in New York City was given the first dose of Pfizer-BioNote on Monday morning. "Today I see hope," said Sandra Lindsay, nurse of the intensive care unit at Long Island Medical Hospital in New York. State Governor Andrew Cuomo monitored the vaccination campaign from the livestream.
Pfizer CEO Albert Baurla said that he would also be among the first few people to take the vaccine. He said, "If the CEO of the company making the vaccine takes it, then people will have increased confidence in the vaccine." On Sunday, a truck came out of the Pfizer's manufacturing plant carrying the first batch of the Kovid-19 vaccine. The US drug regulator had approved the use of the vaccine on Friday. By next week, vaccine doses will be delivered in a total of 636 hospitals and clinics.