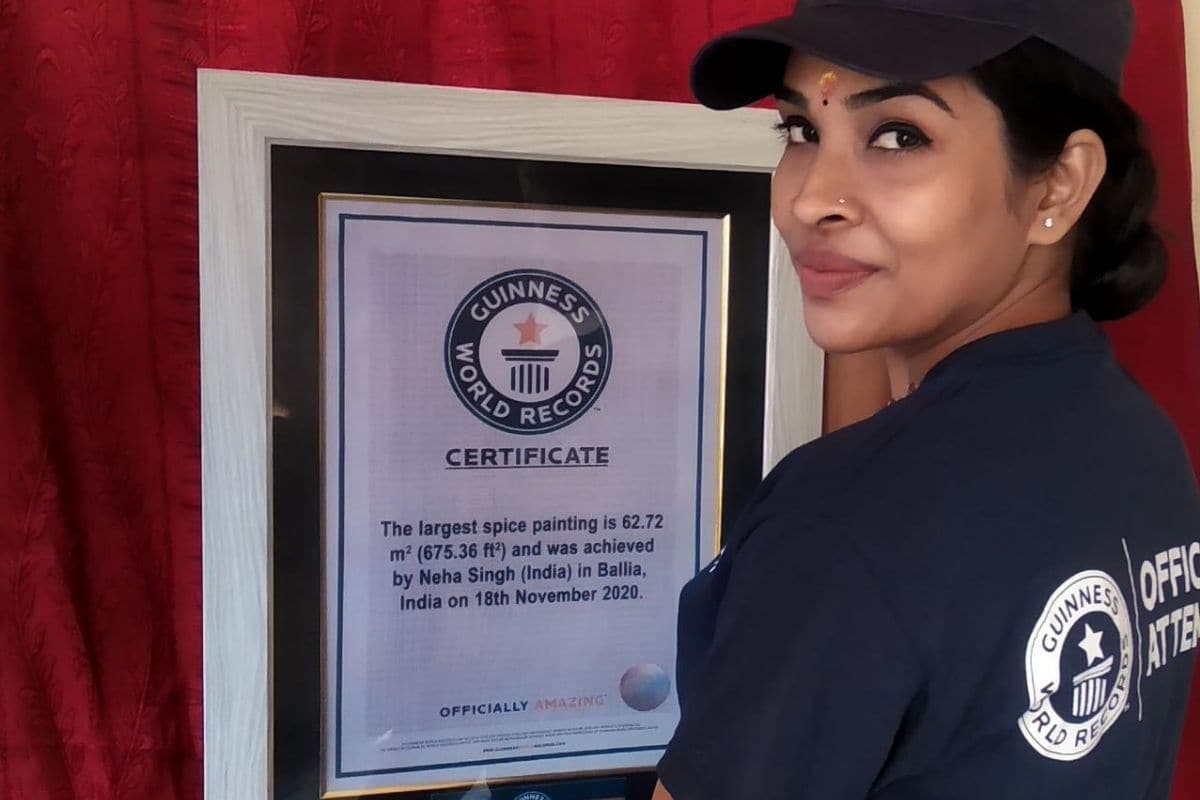 Ballia's name recorded in 'Guinness World Record' for the first time
Previously this record was recorded in the name of Shreya Tatineni of Vijayawada in Andhra Pradesh (Andhra Pradesh), India.
News18No

Last Updated:
December 20, 2020 8:09 PM IS
Varanasi.
Neha Singh, a resident of Dehri village in Rasra tehsil area of ​​Ballia district, has prepared a tree painting of salvation based on Srimad Bhagavad Gita and registered her name in the Guinness Book Record. Neha is studying Vedic Science at Kashi Hindu University. Shrihari Pratap Shahi, the District Magistrate of Ballia, honored him on Sunday in a ceremony held in the village of Neha and cheered him on seeing his best artifacts. Neha has also written a map of India with six million beads and Hanuman Chalisa with fingerprints. Neha is now set to make a new record on Beti Bachao Beti Padhao.
Actually Neha was ready for last year, sitting in lockdown and sitting in home since April, made the biggest painting made with mineral colors. Whose size is 62.72 square meters i.e. 675.36 square feet. In the month of July itself, the painting was prepared according to the rules of Guinness and submitted all the documents from online. But due to Kovid, it took four months to get a response from Guinness.
Case for offering Namaz in Mathura temple: High court approves conditional bail of Faisal Khan
Previously this record was recorded in the name of Shreya Tatineni, resident of Vijayawada in Andhra Pradesh, India. Who made a painting with mineral colors in 54.67 square meters i.e. 588.56 square feet on 29 September 2019. From the same time, Neha Singh had put an application to break this record. But it took over a year to get permission and preparation from the Guinness records. Ms. Neha Singh, a student of the first session of Vedic Science Center of Kashi Hindu University, is a postgraduate in fine arts due to more interest in Vedic literature. Far from the present day Bhagadour and Moh-Maya, Neha is constantly engaged in research and study in subjects like Vedic science, Upanishads, Bhagavad Gita, Indian culture etc. At the same time, to see the common man, Neha Singh has put the painting outside his village Rasra.