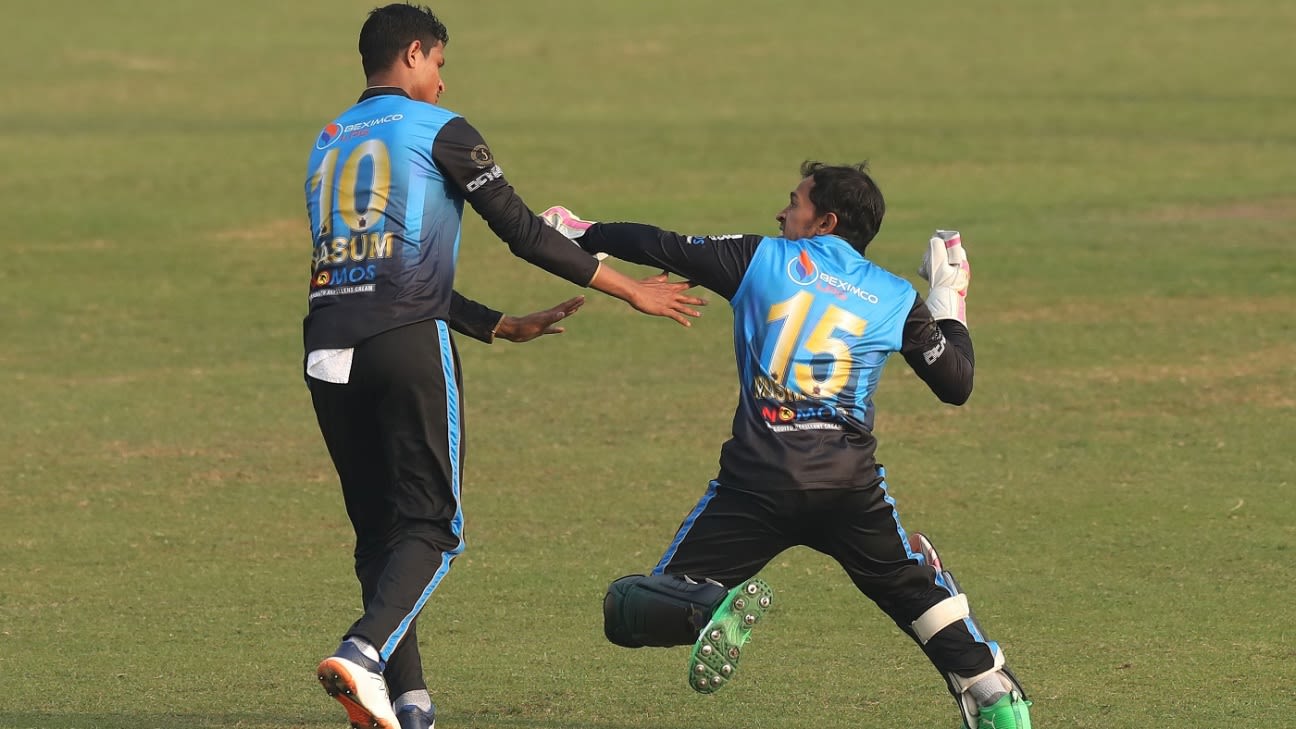 news
A point of failure has also been added to Rahim's disciplinary record
Mushfiqur Rahim has apologized to his Beximco Dhaka teammate Nasum Ahmed for misbehaving twice on Monday in the Bangabandhu T20 Cup Eliminator against Fortune Barishal. In a match that Dhaka eventually won by nine rounds to fight for a place in the final, Rahim's behavior toward his teammates was bizarre despite their field errors.
* The BCB issued a statement on Tuesday that Rahim was fined 25% of his gaming fees for violating the BCB Code of Conduct. A point of failure was also added to Rahim's disciplinary record for being found guilty of "making an insulting gesture towards a teammate," the press release said. If Rahim scores four or more failure points in the tournament, the points will be converted into a game stoppage and he will be suspended.
In the 13th chase, when Barishal batsman Afif Hossain counterattacked, Rahim appeared to be losing the plot. When the left batsman turned one towards the open short midfield for a single, both Rahim and Ahmed chased the ball and after getting there first, Rahim made a threatening gesture towards Ahmed, apparently because he hadn't reached in front of him .
Dhaka started to make more mistakes. Yasir Ali could not cut off Hossain's simple attempt to hide and pursue it later, resulting in a gifted Frontier. Al-Amin fumbled a throw from the depths and Hossain was halfway up the fold. Then when he misaligned a ball resulting in an easy catch for Rahim, the Dhaka captain lost him.
Ahmed, who was standing on the field with one short, thin leg, collided easily with Rahim, who was completing the catch, which was enough for Rahim to deal a blow to his teammate. After Rahim avoided apologizing at the post-game presentation, he made one on his Facebook page Tuesday morning.
"Assalamualaikum everyone, First of all I would like to officially apologize to all my fans and viewers for the incident that happened during the game yesterday," wrote Rahim. "I already apologized to my team-mate Nasum after the game. Second, I ask the Almighty for forgiveness. I always remember that I am above all human and the gesture I made was not at all acceptable. In shaa Allah near future I promise it will not be repeated on the ground or off the ground … JazakAllah khair. "
Mohammad Isam is ESPNcricinfos correspondent in Bangladesh. @ isam84