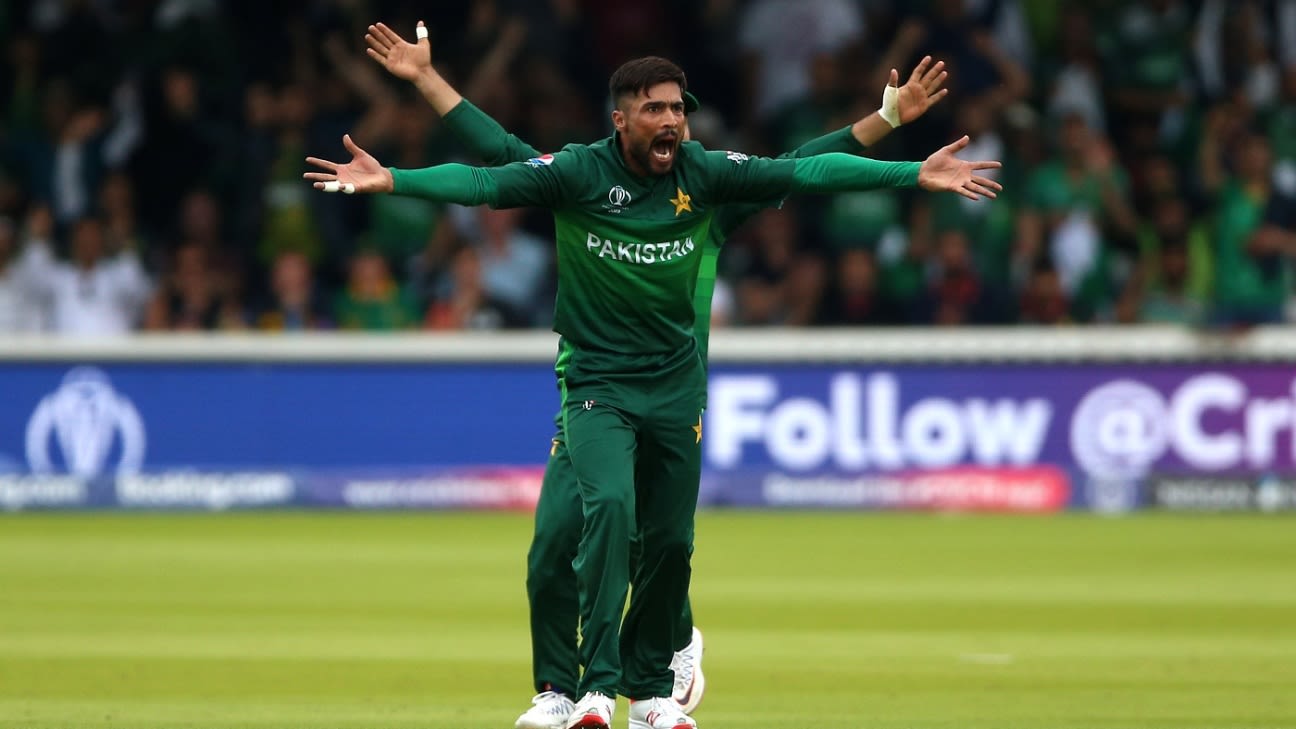 news
"I don't think I can endure such torture. Enough is enough," he says
Pakistani fast bowler Mohammad Amir has retired from international cricket, the PCB has confirmed. Amir represented Pakistan in 36 Tests, 61 ODIs and 50 T20Is and recently played in the first Lanka Premier League for runner-up Galle Gladiators.
"Pakistan Cricket Board chairman Wasim Khan spoke to Mohammad Amir this afternoon after reports that the fast bowler announced his retirement from international cricket. The 28-year-old confirmed to the PCB chairman that he had no wishes or intentions has to play cricket internationally and as such it should not be considered for future international games, "a PCB statement said. "This is a personal decision by Mohammad Amir who respects the circuit board and as such will not make any further comments on the matter at this time."
The tense statement, which Amir did not specifically thank for his service to international cricket, as most retirement tributes generally do, is just another reminder of the extent to which Amir's relationship with the circuit board has collapsed. This emerged from an interview he gave to Samaa TV the previous Thursday in which Amir alleged that he was "mentally tortured" by the circuit board, was often ridiculed and deliberately incapacitated by that management.
"I am leaving cricket for the time being because I am being mentally tortured. I don't think I can endure such torture. I endured a lot of tortures from 2010 to 2015 that I served my time for. I was tortured I just said that two people have invested a lot in me: [former PCB chairman] Najam Sethi and [former Pakistan captain] Shahid Afridi.
"They were the only two. The rest of the team said, 'We don't want to play with Amir'. Lately the atmosphere that has been created means that I'm being mocked all the time by being told that I don't want to . " Play for my country. Who doesn't want to play for their country? Every two months someone says something against me. Sometimes the bowling coach [Waqar Younis] says Amir has left us, sometimes I am told that my workload is unsatisfactory. Enough is enough."
The dissatisfaction between Amir and the board of directors, especially this current management, had simmered for a while before it finally came to a head on Thursday. Amir, who retired from Test Cricket last year, was banned from the PCB's key contract list earlier this year and banned from Pakistan's 35-man roster to New Zealand last month.
At the roster announcement, Amir said on Twitter that "only Misbah" could explain why he was not accepted before criticizing bowling coach Waqar Younis for talking about his workload. That, coupled with Amir's frequent praise from former Pakistani head coach Mickey Arthur, who once said he would "love to play for every side of the world under Arthur," provided a glimpse into his relationship with the current coaches. The fact that he honored Sethi for his praise in his declaration may not have played too well in front of his successor Ehsan Mani or CEO Wasim Khan and further condemned Amir to international exclusion.
Given that this is Pakistani cricket, absolutely no one would rule out a comeback for Amir at some point in the future. The 28-year-old is still in high demand in T20 leagues around the world, which should allow more time for his full international retirement. Having spent so much time highlighting that particular PCB management and administration as the reason he couldn't play for Pakistan anymore, there is no reason to believe that he would not be open to return should himself change the situation on the board. For now, however, Amir appears to have bedded a tumultuous international career that was apparently sabotaged in early 2010 before promising a second coming after a five-year ban that was somewhat off.
Even so, the heights Amir enjoyed in a shortened international career would surpass most full careers. When he entered the international scene in 2009, he played a crucial role in the 2009 T20 World Cup final against Sri Lanka, dismissing the tournament player Tillakaratne Dilshan in the first game when Pakistan took the title. Later that year he took five wickets in the Boxing Day Test and tortured Australia in England in 2010. Seven wickets at Leeds when Australia went out of the running for the first 88 innings and Pakistan won its first Test against Pakistan that opposition in 15 years. Five wickets at Lord's versus England were the next before the spot fixing scandal broke out.
He was never quite as good after his comeback, although glimpses of this outrageous talent could be seen from time to time. The spell with the new ball in the 2017 Champions Trophy final could be most famous when it removed Rohit Sharma, Virat Kohli and Shikhar Dhawan for a 180-run win. For the most part, however, he had reinvented himself as a white ball specialist and an absolute swing bowler, giving him more opportunities to play in T20 leagues around the world.
Amir last played for Pakistan in August this year at the T20Is in England. He finishes his international cricket with 259 wickets – 119 in Tests, 81 in ODIs and 59 in T20Is.
Danyal Rasool is a sub-editor at ESPNcricinfo. @ Danny61000