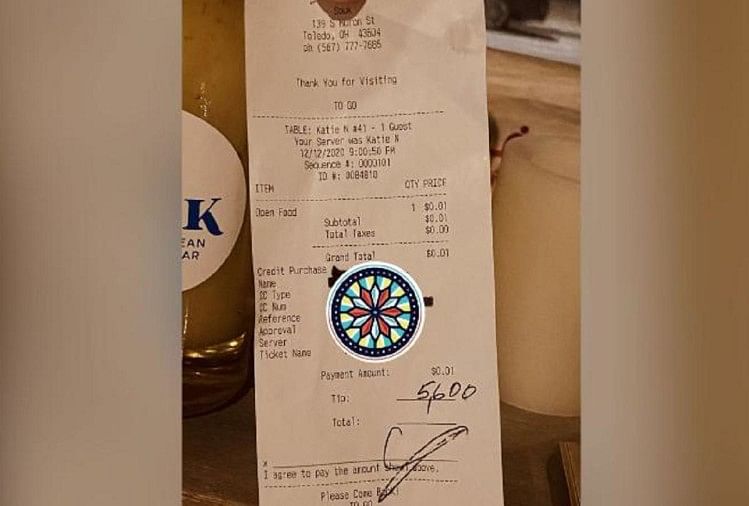 World Desk, Amar Ujala, New York
Updated Thu, 24 Dec 2020 06:17 PM IST
Bill of Order of Tipering Person at Souk Mediterranean Kitchen and Bar, Ohio.
– Photo: CNN
The year 2020 Corona virus may not have been good for many people due to the global epidemic, but there have been many incidents which have proved that humanity is still alive. One such incident occurred in Ohio, New York, USA, where a person gave a tip of four lakh rupees on a bill of less than ten rupees in a hotel.
A man who came to eat at a hotel in Ohio gave a tip of four lakh rupees in a hotel called Souk Mediterranean Kitchen and Bar. According to the information, the person gave such a large amount of tip so that the employees working there can take gifts for their families. The hotel staff also thanked the said person.
This person, who has given such a big tip, has expressed his intention to keep his name confidential after showing generosity. The restaurant staff said that the said man had not made any specific order and on the go he gave a tip of four lakh rupees. Staff said that there are very few people who come as humans to become God. We were in a lot of trouble due to Kovid and lockdown, but the said person brought happiness for us. Because of his generosity, we will all be able to celebrate Christmas well.
There are 28 employees in this restaurant and due to this tip, they got about two hundred dollars or about 15 thousand rupees in each part.
On the other hand, the owner of the hotel Chef Musa wrote a Facebook post thanking the person. He wrote, 'Be the reason why people trust in goodness. Last night one of our customers gave a tip of $ 5600. I and all my staff are thankful to that generous person. ' After this post, the said person is being highly praised on social media.