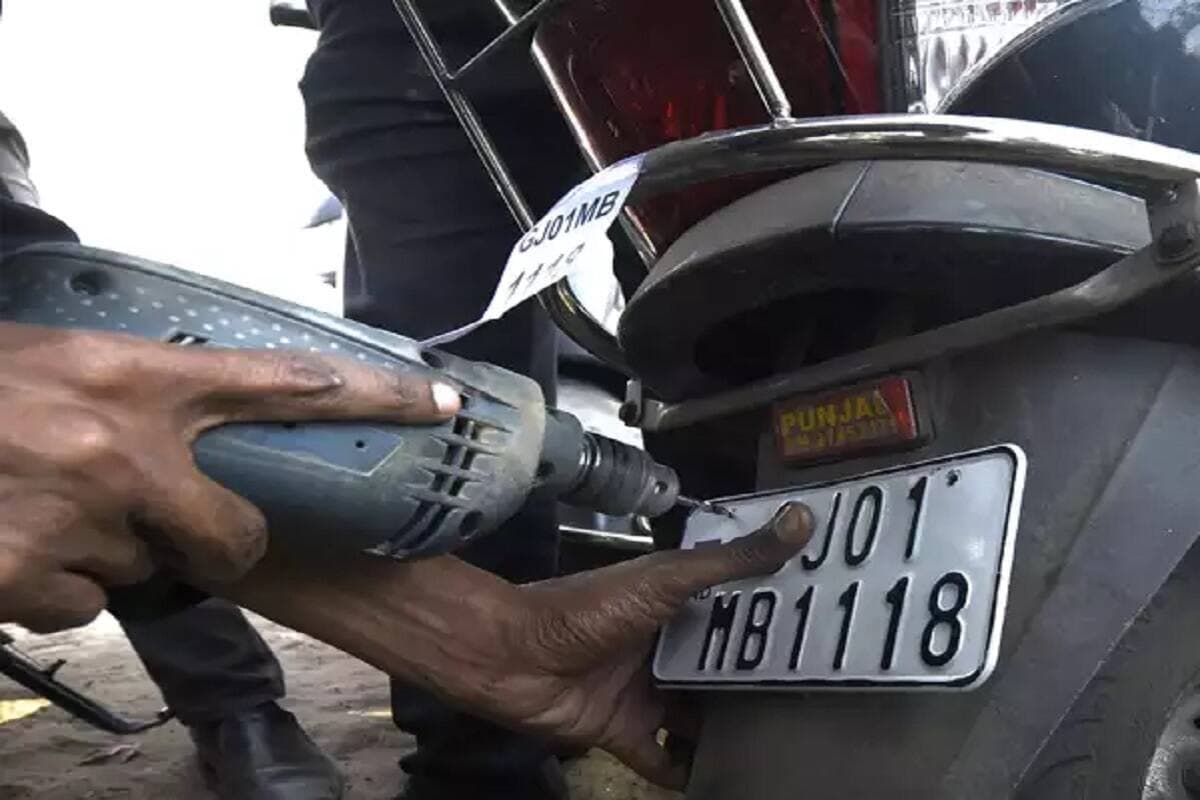 new Delhi.
High security registration plate has been made mandatory on vehicles from December 1 as per the government's instructions. The difficulties of vehicle owners have increased since High Security Registration Plates (HSRP) are required on vehicles. There were problems in online applications in many places, then arbitrary prices are being replaced in place of number plates. If you too are facing all these problems then let us know what is the high security number plate and how to apply for HSRP.
Let me tell you that till now there is no safety certificate in any vehicle, there was a ban on giving him a fitness certificate. But on October 15, the Transport Commissioner issued an order prohibiting all the essential works done in RTO of all vehicles without HSRP. At present, the transport department has withdrawn the order requiring high security number plates on old vehicles.
What is high security number plate?
The High Security Number Plate (HSRP) is a hologram sticker on which the vehicle's engine and chassis numbers are. High security number plate is designed keeping vehicle safety and convenience in mind. This number is written with a pressure machine. There will be a kind of pin on the plate that will attach to your vehicle. Once this pin catches the plate from your vehicle, it will lock on both sides and will not open from anyone.Also read: Driving License: Big news for those who get driving license, now the slots have been increased in these states
How to apply for HSRP online?
>> The process of getting high security registration plate and color code stickers has been made easy.
>> Two vendors' portals have been created to install high security registration plates.
>> Bookmyhsrp.com/index.aspx website has to be visited.
>> After this, an option related to private or public vehicle will have to be selected.
>> On clicking on the Private Vehicle tab, you have to choose the option of Petrol, Diesel, Electric, CNG and CNG + Petrol.
>> Clicking on the petrol type tab will open the category of vehicles.
>> It will have options like bike, car, scooter, auto and heavy vehicle.
>> In this, you have to give step by step information.
>> In addition, if the driver has a registration plate in his car and needs to get a sticker, he will have to visit the portal www.bookmyhsrp.com.
Know which color sticker on which vehicle
The light blue sticker has been fixed for petrol and CNG vehicles. At the same time, orange colored sticker has been made mandatory for diesel driven vehicles. Officials say that its purpose is to ensure identification of vehicles from a distance. Let us know that HSRP is being installed in Delhi since 2012, but the color sticker is being installed in all new vehicles from 2 October 2018. Accordingly, it is to be installed in all cars, while HSRP is to be installed in cars and two wheelers before 2012.
Read also: Hyundai started car service camp, it will get many offers, know everything
After the Supreme Court order, the transport department is making it mandatory to install high-security number plates and colored stickers according to fuel. There was a lot of effort in the beginning, but it did not show a positive effect. In spite of this the Transport Department has decided to be strict about this, so that the drivers do not ignore the rules. To ensure this, the campaign has been going on since 15 December. In the beginning, strictness will be done only on four wheelers.