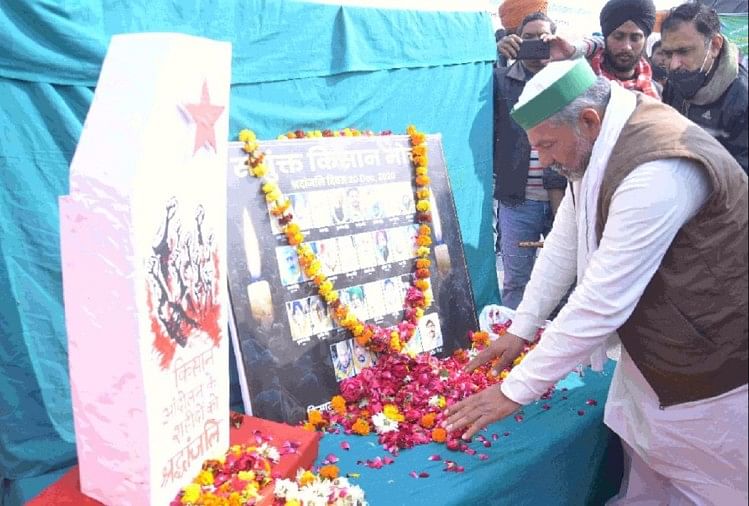 News Desk, Amar Ujala, New Delhi
Updated Mon, 21 Dec 2020 12:20 AM IST
Rakesh Tikait paying tribute to the farmers who lost their lives in the movement
– Photo: amar ujala
In support of their demands, the farmers who have been standing for the last 25 days have now decided to take a tough stance. During the next one week, farmers will protest against the agricultural laws of the Center in different ways.
During this time, 11-11 farmers will go on fast from Monday to Wednesday at all picketing sites, have decided to withdraw the agricultural laws by not submitting memorandum to BJP leaders, not making lunch on Farmers Day. If all toll plazas of Haryana will be freed on 26-27, then farmers have decided to boycott all food products of a corporate house. On 27 December, when 'Mann ki Baat' will be done by the Prime Minister, the farmers will press their voices in the noise of thali, clap across the country.
Addressing reporters on the Singhu border, farmer leaders Rakesh Tikait, Darshan Pal and other leaders said that the Prime Minister should talk about the people, not the mind. BKU spokesperson Rakesh Tikait took a direct target on the central government and said that the BJP is doing little. A rally is being organized by giving money to followers in the name of farmers. The farmers are getting 50 lakh pieces of bondage. We are not afraid of it. Farmer leaders Darshan Pal, Raldhu Singh, Sarjeet Singh Phool and other farmer leaders also addressed.
He informed that from Monday to Wednesday 11-11 farmers will be on hunger strike at all picketing sites. Farmers of the country will not make lunch on Farmers Day on 23 December, while on 25 December BKI activists will submit a memorandum to BJP leaders and reply.
On December 26, Modi will submit a memorandum to the constituents of the government, demanding the withdrawal of the farmers' agricultural laws. All toll plazas in Haryana will be done during 26-27 December while farmers will boycott all Adani food products (flour, oil, refined and other products) from Monday.
Tribute meeting
A tribute meeting was organized in the memory of the farmers who lost their lives in the movement between 11 am and 1 am on the Singhu border. People from all classes, including farmers and family members attended it. After this, the peasant leaders, during the whole day's address, were busy preparing the front line of the movement, claiming not to back down in the fight for the rights of the farmers. Ardas were recited in memory of the deceased farmers so that this movement can be further strengthened.
Rage against the central government is also increasing among the farmer supporters. During the address on the Singhu border, the farmers had registered a protest against the central government stating these laws in favor of corporates on the claim of continuing the protest till the withdrawal of agricultural laws.
read ahead
Tribute meeting