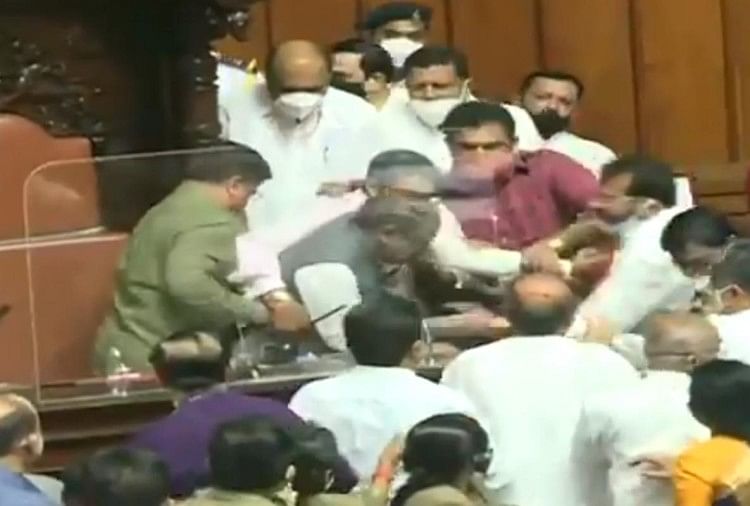 News Desk, Amar Ujala, Bangalore
Updated Tue, 15 Dec 2020 01:06 PM IST
Members of commotion in Karnataka Legislative Council
– Photo: ANI
There was a huge uproar on Tuesday in the one day special session of the Karnataka Legislative Council. The ruling party and the opposition, especially the MLC of the Congress, got into a fierce push and a scuffle ensued. At the same time, the members of Congress forced the deputy chairman to sit on the chair of the Chairman. They were pushed and pulled. He was Congress leader and chairman of the House K.K. Pratapchandra sat in his chair before sitting on the stick. Amid heavy uproar, Chairman Shetty adjourned the Legislative Council meeting indefinitely.
#WATCH Karnataka: Congress MLCs in Karnataka Assembly forcefully remove the chairman of the legislative council pic.twitter.com/XiefiNOgmq

– ANI (@ANI) December 15, 2020
Congress bid, was raised illegally, so raised

On this, the Congress says that the deputy chairman was sitting on the chair of the chairman illegally, so we picked him up. Congress MLC Prakash Rathore said, "BJP and JDS made the deputy chairman illegally chairman when the house was not functioning." It is unfortunate that BJP is doing such unconstitutional things. The Congress asked him to step down from the chair, we had to evict him because he was sitting on it illegally.
BJP accuses, treated like goons
BJP MLC Lehar Singh Siroya said, 'Some MLCs forcibly removed the Chairman of the Legislative Council and treated them like goons and abused them. We have never seen such a shameful day in our council's history. I am ashamed of what the public is thinking about us. '