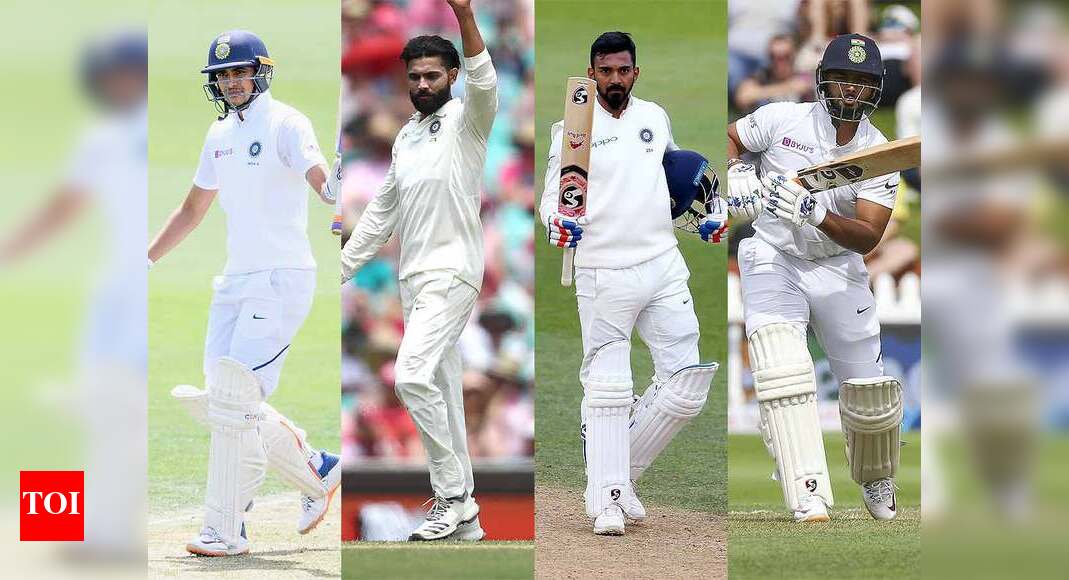 Mohammed Siraj
or Navdeep Saini can replace Mohammed Shami
MUMBAI: Shaken by the sensational collapse in Adelaide, India could completely revise its XI for the second test in Melbourne and make up to five changes, TOI has learned. Two of the changes are enforced because of Virat KohliAbsence and Mohammed Shami's injury.
"Opener Prithvi Shaw could be replaced by KL Rahul, talented young man Shubhman Gill will make his test debut and replace skipper Virat Kohli in 4th place. Hanuma Vihari can get fit again Ravindra Jadeja. Wriddhiman Saha could lose his wicketkeeper's place Rishabh Pant, and either Mohammed Siraj or Navdeep Saini can replace the injured pacemaker Mohammed Shami, "a BCCI source said.
With Siraj and Saini already on the roster, the BCCI is unlikely to name a replacement for Shami, who broke his hand in the second innings while holding off a Pat Cummins bouncer.
Shaw showed enough technical flaws to suggest he may not be ready for test cricket when the great Shane Warne quipped after the game. What makes his case worse is his bad field. In Shaw's absence, Mayank Agarwal was able to open the bet with KL Rahul, who was in excellent shape in the IPL and finished as the top scorer.
As former Indian batsman-turned-commentator Sanjay Manjrekar pointed out, Rahul has had his share of poor performances in the last five series of Tests he has played in. In his last five series, Rahul's averages were 7.1 against South Africa, 29 against England, 18 against the West Indies at home, 10.7 against Australia (on India's last tour in 2018-19) and 25.4 against the West Indies.
"In cricket, shape is everything and he's in shape," the source said.
After Gill impressed everyone with 43 (from 58 balls) and 65 (from only 78 balls) strokes in the second warm-up game in Sydney, he will make his test debut in the absence of Kohli. Although he can open, Gill will hit Kohli's usual No. 4.
The inconspicuous Vihari, who only made 16 and 8 in Adelaide, will give way to Jadeja. "That way we get an all-rounder in sixth place. We can then enjoy the luxury of five specialized bowlers – two spinners and three pacemakers," the source said. It helps that Jadeja is a "weapons field player" and is helping to improve India's field standards.
Saha had shot bad shots in both Adelaide innings, and his normally safe wicket stance wasn't at his best either. Pant had cracked an unbeaten hundred of just 73 balls in the second innings of India's second warm-up game, played with the pink ball against Australia 'A'. The young wicketkeeper was not in good shape in the IPL but scored a hundred points in the fourth and final test in Sydney on India's last Australian tour. It helps that he is left-handed and can attack the ball, which can offset the ultra-conservative approach of some of India's top batsmen these days.
Shami will likely be replaced by Siraj or Saini, although Siraj, who won 3/83 in the first warm-up game, is ahead of the game at the moment. "The good thing is that both Siraj and Saini can generate a good pace," the source said.
INDIA'S CHANGES FOR BOXING DAY TEST
KL Rahul replaces Prithvi Shaw in the opening slot
Shubman Gill fills Virat Kohli's big boots in 4th place
Ravindra Jadeja replaces Hanuma Vihari in 6th place
Rishabh Pant will come in; Wicketkeeper Wriddhiman Saha will run out
Between Mohammed Siraj and Navdeep Saini, Siraj has the edge when it comes to replacing the injured Mohammed Shami