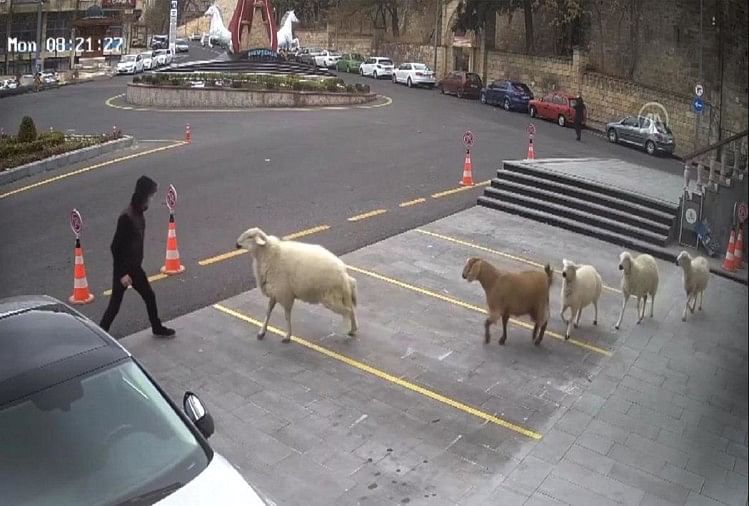 World Desk, Amar Ujala, Nevsehir (Turkey)
Updated Thu, 17 Dec 2020 09:03 AM IST
Goat, sheep and three children of sheep created terror in a city in Turkey
– Photo: Daily mail london
In a Turkish city, some sheep running from the field created a panic attack. These animals also chased the guards after escaping from the farm. A CCTV footage is going viral in social media, in which a goat, a sheep and three lambs of children caused awe in Turkey's Nevsehir Hall.
These sheep farmers were from Hassan Unbulan and had fled from their fields towards the city a night before. In the video, we can see that two guards were climbing the stairs to go inside the hall, when these animals fell behind them. The two guards entered the building and released the five animals on the road.

Nevşehir Municipality building was seized by 1 sheep, 1 goat and 3 lambs. pic.twitter.com/3lYPrbCYza

– Critical News (@kritikhabertr) December 14, 2020
After this, when a man came towards the car parking, the sheep attacked him too, but the man somehow saved himself and hid himself behind the car. These animals kept terror like this for a long time. These animals followed every person who entered the city hall.
1 million people watched videos
This video is becoming very fast on social media and it has been watched by over 10 lakh people so far. This video was shared on social media by a local official in Nevsehir city of Turkey. These animals belong to Hassan Unabulan farmer. Hasan had lodged a complaint about the disappearance of the animals in his farm.
Hasan told the media, 'I kept searching for my animals for a long time, but I could not find them. After that I went to Nevesheer city to file a complaint about my missing animals. I came to know that the authorities protected my animals near a pond. The authorities later returned my animals to me. '
An official working in the city hall said that when he came here to do his duty here in the morning, he was shocked to see these animals and wondered what these animals were doing here. We complained to the authorities, after which a team came and took these animals with us.