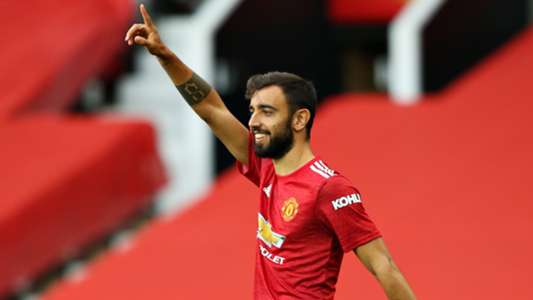 A club legend has given high praise to the two men he believes are key members of the current Red Devils roster
Bruno Fernandes and Harry Maguire are "irreplaceable," said Gary Neville, who says Ole Gunnar Solskjaer cannot afford to rest the Manchester United duo.
Fernandes has built on an impressive start to life in Manchester by establishing himself as the team's driving force in the final third at the start of the 2020-21 campaign.
The Portuguese, who moved from Sporting CP to Old Trafford in January under a € 55m deal, has scored 13 goals and seven assists for United in his first 20 games this season.
His performances helped Solskjaer's side move up to third in the Premier League and he was on the starting line-up for a Carabao Cup quarter-final against Everton on Wednesday night.
Fernandes played the full 90 minutes of the Red Devils 2-0 win at Goodison Park, as did club captain Maguire, who did an admirable job of keeping in shape Toffees forward Dominic Calvert-Lewin.
Maguire was criticized in the early stages of the season after a string of underperformance but has gradually returned to his best levels and Neville believes his continued presence will be vital to United's chances of success in 2021.
A member of the legendary Class of '92 squad believes the England international is as important to Solskjaer's lineup as Fernandes. The Norwegian head coach is in a difficult position when it comes to putting the two players in a crucial position.
Neville, who had a famous career at Old Trafford for over 19 years, said of his Sky Sports Podcast: "They are the two players I think are irreplaceable. Fernandes is irreplaceable, they are a way out without him. He is an important piece of the puzzle.
"Maguire, I think you would know if he was missing. My gut feeling is that they would miss him immensely.
"I know some people say he's not the best defender in the league, that he hasn't played brilliantly since he came for £ 80m, but he's a huge presence at the heart of the defense.
"He's good on the ball, he's calm and he's good in the air. He doesn't make a lot of mistakes, sometimes he gets caught, but he's a good center-back, a really good center-back and a great presence on the team.
"He and Fernandes, I'm not sure you can [rest them] at this point because, unfortunately, Ole doesn't have the luxury of losing a game. "
Fernandes and Maguire will both be back in action when the Red Devils take a trip to Leicester City on Boxing Day.