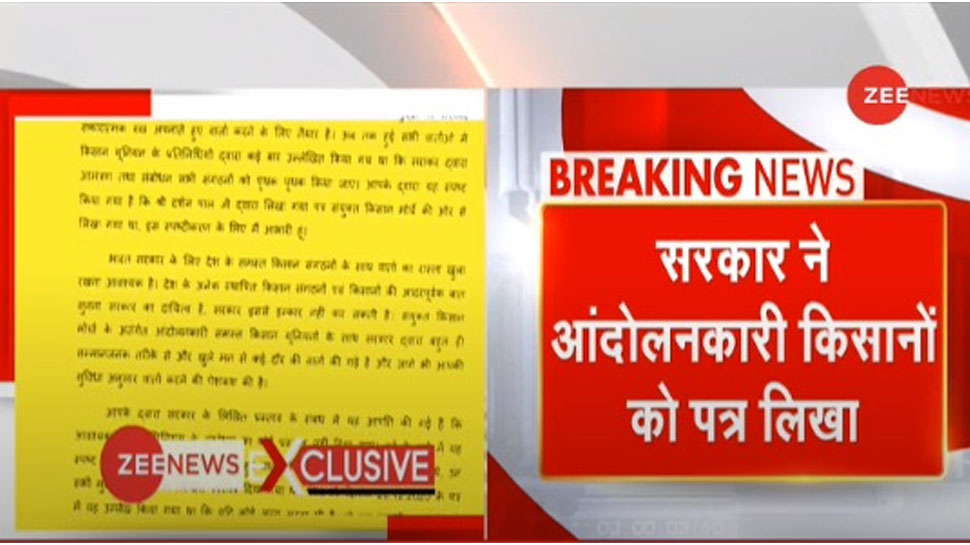 new Delhi: In the midst of the farmers' movement, another letter has been written to the farmers by the government. In a letter written by the Ministry of Agriculture, it has been said that the government is ready to discuss every demand of farmers. The government has clearly stated that the avenues of dialogue are still open. Vivek Agarwal, Joint Secretary, Ministry of Agriculture, Government has written this letter.
Central government Agricultural laws Repeating the commitment to negotiate with the farmers, farmers have written this counter letter again. This letter has been given in response to the letter received from the farmers on the 23rd.
The central government again said that an appeal has been made to the farmers to give a date for the talks. The central government is ready to address every issue raised by the farmers.
Let us know that the talks between the government and the farmers have not reached any conclusion. The agriculture minister of the country has assured the farmers that they will get the right price for their crops. But farmers are still adamant on the demand for withdrawal of new agricultural laws and agitation (Farmers Protest) are doing.
Signature of more than 3 lakh farmers in 20 states in support of new agricultural laws
However, there are thousands of farmers in the country who are in support of the new agricultural laws. In support of this law, the signatures of more than 3 lakh farmers from 20 states were handed over to the country's Agriculture Minister Narendra Singh Tomar and during this time a group of farmers also met the Agriculture Minister, supporting the new laws.
During this, the Agriculture Minister also informed that within 25 hours on the 25th, 18 thousand crore rupees will be deposited in the bank account of 9 crore farmers of the country under the Kisan Samman Nidhi.
On December 25, on the occasion of the birthday of former Prime Minister Atal Bihari Vajpayee, an installment of 2 thousand rupees will be added to the accounts of 9 crore farmers. That means a total of 18 thousand crore rupees will be added to the farmers' account.