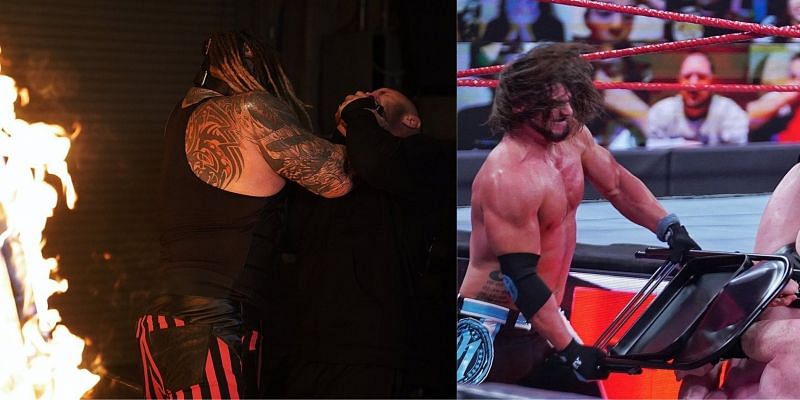 The episode of RAW was quite good. WWE started RAW with a very good segment while the ending proved interesting. Well, let's talk about the outcome of the episode of RAW.
– RAW debuts with 'Nightmare before TLC' segment
The Miz and John Morrison were present in the ring. AJ Styles was also there during this time. Miz was sitting at a table in the middle and had a book with him. He said that he is going to narrate the story called 'Nightmare before TLC'. His story told the match of Drew McIntire and AJ Styles. During this time John Morrison dressed like Drew McIntire. AJ Styles tells the story of how to defeat Drew here. During this time, The Miz told the story by pulling forward that if Styles loses, he will cash-in his contract and become the new champion. Styles was angry with this because it was not in the story he had created. Sheamus entered and Miz-Morrison departed. AJ Styles later attacked Sheamus and Shemus later retaliated. The match took place between the two.
– AJ Styles vs Shams in RAW
At the beginning of the match, Sheamus had an upper hand. Despite this, AJ Stiles made a tremendous comeback. He showed many good moves and finishers. The match was very long and both the stars did a great job and the end of the match was very awkward. Sheamus had a leg injury. Despite this, he was going to move his steps to the top rope and make his move. Styles survived this and attacked his injured leg badly. Also won by pinning.
Result: AJ Styles wins
Styles was leaving after the match but Sheamus tried to stop him. During this, Styles badly attacked Sheamus from the Chairs.
Backstage at The RAW The Heart Business made fun of a man where Lashley milked him. After this MVP was interviewed and talked about their matches.
– Jeff Hardy, New Day vs The Heart Business at RAW
The match proved to be quite good. The teams used a number of good moves where the Heart business made a tremendous catch in the match. From the beginning to the end, he had the upper hand, where there was some interference. Well, in the end Bobby Lashley trapped Jeff Hardy in his lock and Hardy taped here.
Result: The Heart Business Wins
Lana and Asuka were talking backstage at RAW.
– Lana vs Naya Jax in RAW
The match was too short. Naya Jax was dominating from the beginning. Despite this, Lana tried her best to make a comeback. Naya was going to put Samoan drop on Lana from Jax Top Rope. Lana escapes and slashes Nay Jax. Also pinned them and won. Everyone got a big shock.
Result: Lana wins
Asuka is attacked by backstage Shayna Bazzler. After this Naya Jax and Shaina Bazzler attacked Lana badly and targeted her leg. Asuka entered the ring and drove both Heel stars away.
– Segment of Ilayas in RAW
Ilayas introduced the sagiment. During this time Jackson Raiker was also there and told that he had changed after listening to the songs of Ilayas. During this time, R-Truth made an entry there and said that he had come to apologize for interfering in the saga of Ilayas last week. Ilyas said that R-Truth has also interfered at this time. Well, the WWE Superstars crowd came. They started fighting amongst themselves, while some stars were attacked by Jackson Ryker. R-Truth escaped in the meantime.
Backstage at RAW, Miz-Morrison was talking among themselves. During this time Keith Lee made an entry and tossed the coin. Here Miz and his partner win. Keith said that he can only win this.
– The Miz and John Morrison vs Keith Lee (Handicap Match) at RAW
Keith Lee maintained his dominance throughout the match. In fact, he badly attacked The Miz and John Morrison from the beginning. Miz and Morrison later made a comeback. Despite this, Keith gave a tremendous performance. In the end both superstars did a great job as a team and pinned and beat Keith Lee.
Result: The Miz and John Morrison win
– Brawet sagging in RAW
Brey Wyatt came into the ring and cut the promo. During this time his companions were present at ringside. Well, Wyatt said that he wanted to end his rivalry with Orton. During this he narrated some jokes. He was laughing and Randy Orton appeared on the big screen. During this time he talked about The Find. During this time Randy Orton stated that he wanted to play Hyde-and-Sick with Bray Wyatt. Wyatt accepted it.
– Ricoshe vs Mess in RAW
Retestation member Mess was confronted by Ricoshe. Mess performed brilliantly and truly impressed everyone. Ricoshe also made his comeback but Mess eventually defeated Ricoche with his finisher. Ali said that he would not give up the pursuit of Ricochet until he became a part of the retribution.
Result: Mess wins
Backstage Bray Wyatt in RAW was actually looking for Orton. During this, Wyatt met Riddle. Riddle tried to connect them with him. Wyatt denies this and says that he is currently looking for Orton. Ramblin Rabbit also appeared there and Riddle gave him a carrot.
– Shayna Bazzler vs Danna Brooke in RAW
Shayna Bazzler had the upper hand throughout the match. Danna Brooke also showed some good moves. Despite this, when Brooke had an upper hand, Naya Jax interfered and the match ended with DQ.
Result: Danna Brooke wins DQ
Even after the match Shayna Bazzler and Naya Jax continued to attack. During this time, Mandy Rose returned and attacked the two with a kendo stick. The badgeler began to be overshadowed but Asuka came and saved them.
– Backstage segmentation of Breyatt in RAW
In RAW, R-Truth was talking to Pig of the Firefly Fun House. Meanwhile, Bray Wyatt came there and soon went to find Randy Orton. Bray Wyatt was looking for backstage Randy Orton. During this, Wyatt saw his old moving chair. He sat on it. Orton came from behind and attacked him. Wyatt tried to make a comeback but Orton continued to attack badly. He then locked Wyatt in a wooden box and set fire to it. They thought that the vats would be inside. Despite this, The Find of Suddenly entered, and they smacked Orton with a mandible claw.
– Riddle vs MVP in RAW
The match was too short. During this time Riddle impressed and won quite easily. Bobby Lashley entered after the match but could not attack Riddle.
Result: Riddle won
– WWE Championship Ascension Ceremony at RAW
Both of them entered. AJ Styles then cut the promo and tried to insult Drew. Drew cut his promo and then hung up the championship. AJ Styles said that he didn't just have to face Styles. The Miz and John Morrison then attack Drew. The three smack Drew. Drew then returned and attacked all the superstars but Styles' bodyguards distracted him. Styles then smashes McIntire using ladders, chairs and tables. At the same time, climbing the ladder, took out the title and declared himself a big contender in TLC.
In this way the episode of RAW came to an end.
Published 15 Dec 2020, 09:45 IST