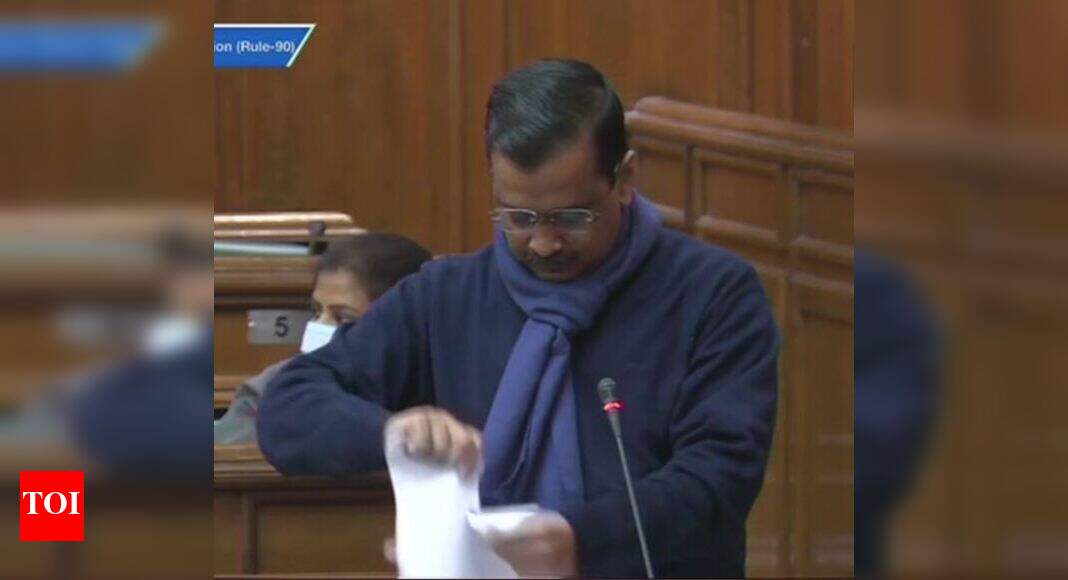 NEW DELHI: The Prime Minister of Delhi, Arvind Kejriwal, tore copies of the center's three new agricultural related Legislation by doing legislative assembly on Thursday.
Speaking to the meeting in Delhi, the prime minister said he could not betray the country's peasants. He urged the center not to get worse than English people and appealed to the government to withdraw these laws.
"What was the rush to pass farm laws houses of Parliament during a pandemic? It is the first time that three laws have been passed without a vote in Rajya Sabha … I'm tearing up three farm laws in this assembly and appeal center so as not to get worse than the British, "said Kejriwal.
He also claimed that the laws governing election funding BJP and not the farmers.
"It hurts that I have to do this. I didn't mean to, but I can't betray the farmers in my country who slept in the cold on the street when the temperature was only 2 degrees Celsius," Kejriwal said at the Tearing up copies of the three laws.
"I am first a citizen of this country, later Prime Minister. This assembly rejects the three laws and appeals to the central government to comply with the demands of the farmers," he added.
Farmers Protests: Live Updates
Kejriwal said 20 protesting farmers had died so far and asked the center when it would wake up. "More than 20 farmers died during 20 days of protest. On average, one farmer is tortured every day in this movement," he said.
He also said the centers did not feel that the farmers were simply going back to their homes.
In 1907 the peasants' protest continued for nine months until the British rulers repealed some laws, he added.
(with contributions from agencies)