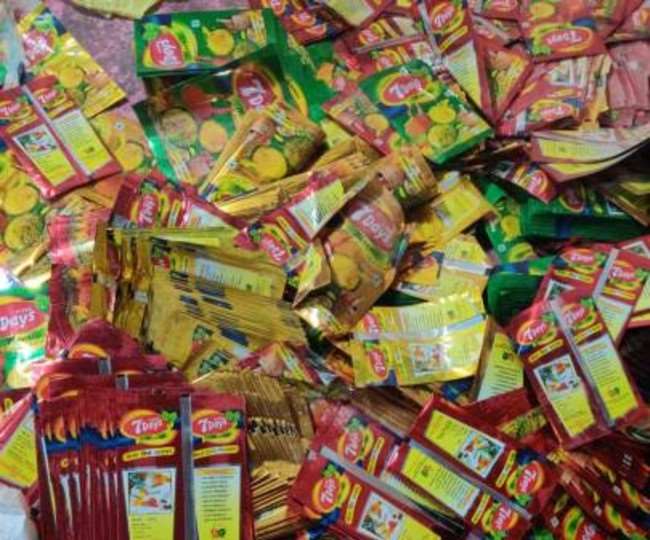 Hathras, IANS In the greed to earn more money, adulterers forget the real mantra of 'Health is wealth'. This adulteration gradually causes serious diseases in people. The factory to make fake spices by messing with similar health has been ruled in Hathras district of Uttar Pradesh. The shocking thing is that donkey droppings, acids, sawdust and inedible dyes were being used in fake spices. These spices were made and packed in wrappers of various companies and were being supplied in the market.
The Hathras police have revealed a factory making fake spices of local brands using donkey dung and acid. The joint magistrate raided the FDA team at Hathras Kotwali Sadar area in Navipur, a spice manufacturing factory. A large quantity of fake spice-making items were also recovered from here. The factory is owned by Anoop Varshney, co-in-charge of Hindu Yuva Vahini. He also got the team on the spot. The factory was sealed in the presence of a joint magistrate. Here, the factory operator is currently arrested for breach of peace and sent to jail. More than 27 samples have been sent for tests and an FIR under Food Safety will be lodged after reports from the lab.
Joint Magistrate Prem Prakash Meena said that more than 300 kilograms of fake spices have been seized in the name of local brands. He said that during the raids many materials used to prepare fake spices have been recovered, including donkey dung, sawdust, inedible color and acid-filled drums. Large quantities of spices such as coriander, turmeric, red chilli, garam masala etc. were found stored during the Dabish. According to Food Department officials, adulteration can prove to be a health hazard, especially if consumed over a long period of time.
According to officials, around 1000 empty packets of different brands and around 100 packets of spices were found on the spot during the raid. When factory owner Anoop Varshney was asked for license papers of these brands, he could not produce any license papers on the spot. On this the factory was sealed by SDM. Anoop Varshney resident of Chaubey Gali, a spice factory was running illegally in Navipur. Where fake spices were made, packed and supplied in the market. A large quantity of fake spice items have been recovered from the spot.
Read also: In Agra, the factory of making fake country ghee from the fat of the animal was also busted, bones, legs and hooves
Download Jagran app and get job alerts, jokes, shayari, radio and other services with all news of news world