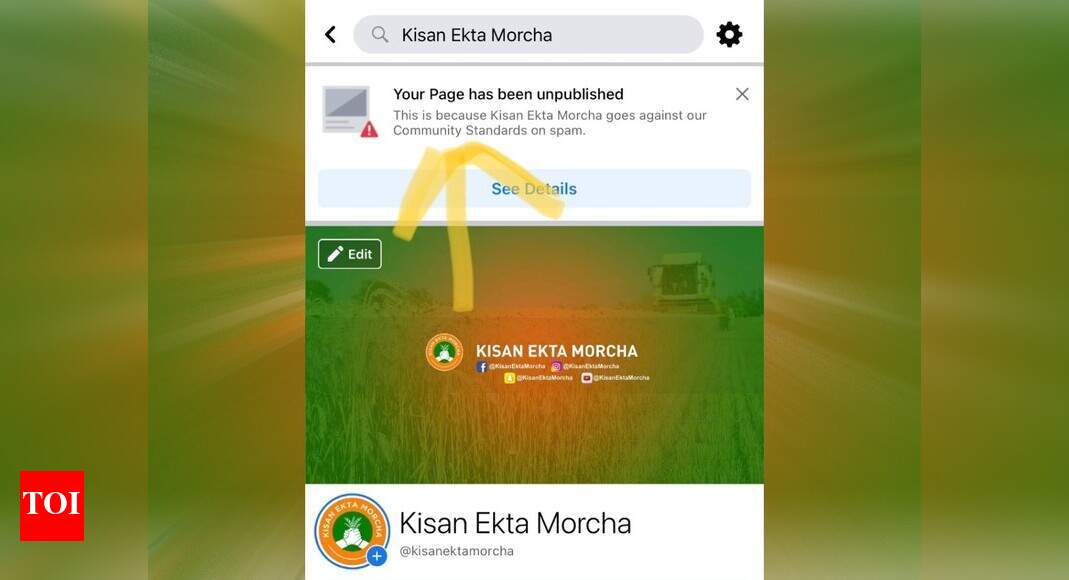 NEW DELHI: Facebook suspended the page briefly and then restored it Kisan Ekta Morcha (KEM) after social media outrage on Sunday evening. The tech giant admitted to having removed the Facebook page to TOI and regretted the inconvenience it caused.
At around 7.30pm, KEM tweeted that their Facebook page was "unpublished". The farmer collective also provided a screenshot of the page that said, "Your page has not been published. This is because Kisan Ekta Morcha is violating our community standards on spam."
"They can do that if people raise their voices. If they can't beat us ideologically," KEM wrote along with the screenshot.
This is what you can do when people raise their voices ……. If they can't beat us ideologically ……. … https://t.co/OP3Xsp7hFH

– Kisan Ekta Morcha (@Kisanektamorcha) 1608472097000
Several farmers' associations have set up an informal "IT cell" to disseminate information about ongoing protests against the centre's agricultural laws and to counter misinformation against farmers.
"You unpublished the page without notice. We didn't get a popup until around 7pm. We just explained the cons of the bill. How is that against a policy?" asked Baljeet Singh Sandhu, the vice president of Majha Kisan Committee, one of the organizations that was behind the creation of farmers' social media accounts. Sandhu added that Facebook did not restore the page until it was "pressed".
"We have restored Kisan Ekta Morcha's Facebook page and we regret the inconvenience caused," a Facebook spokesman told TOI.
The news of the KEM suspension led to violent reactions on Twitter. Several users accused Facebook of suppressing dissent. "The actions taken by Facebook to shut down Kisan Ekta Morcha require careful consideration of its content moderation practices and policies. India has nearly 300 million Facebook users. It is the largest market. Even then, there is little transparency or accountability," according to the Digital Advocacy Group Internet Freedom Foundation tweeted.