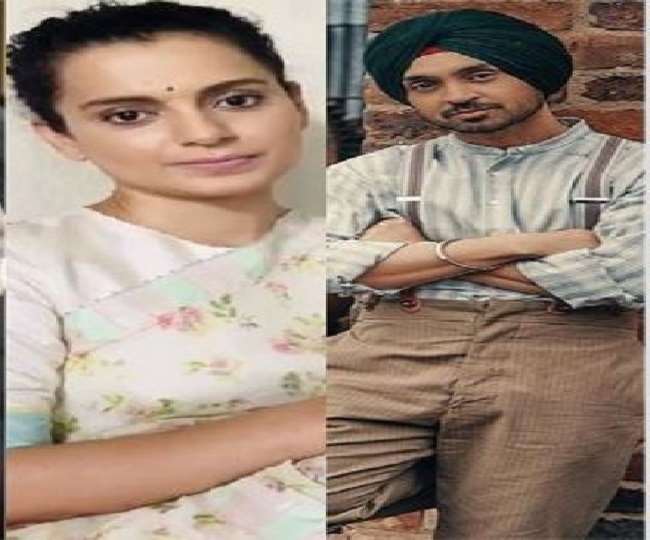 New Delhi, JNN Film actor and singer Diljit Dosanjh has hit back at Kangana Ranot. Kangana had earlier written on Twitter that Priyanka Chopra and Diljit Dosanjh have gone missing to incite farmers. Now Diljit has replied to Kangana saying 'do something shy'. Kangana Ranot and Diljit Dosanjh's social media war does not seem to end soon.
The fight which started a few weeks ago is now in a macabre form. This battle started when Diljit had beaten up Kangana for wrongdoing a female protester in the peasant movement. After remaining silent for a few days, Kangana Ranot once again Has sparked controversy with Kangana tweeted on Wednesday afternoon, pinching Priyanka Chopra and Diljit Dosanjh.
@diljitdosanjh ji I am simply asking what exactly you don't like about the # FarmBills2020 ? For example I like the fact that now farmers can sell their produce any where in the country, just how you can earn money anywhere in the country, I also like the fact they can (cont)

– Kangana Ranaut (@KanganaTeam)
December 16, 2020
Kangana wrote that after instigating the farmers, Diljit and Priyanka Chopra have disappeared. Diljit Dosanjh has now reacted to Kangana Ranot's claim and has also asked farmers to do some shame before calling them traitors. Reacting to a news, Diljit wrote, 'Take away the doubt of disappearance. Who has given you the right to decide who is a nationalist and who is an anti-national? Where are you from? Are you ashamed She is calling farmers as anti-nationals.
Disappeared Wala Tan Bulekha Hee Kadh Deo ..

Naley Kon Desh Premi Te Kon Desh Virodhi Eh Decide Karn Da Hakk Ehnu Kiney De Ta?

Eh Kithey Di Authority aa?

Farmers Nu Desh Virodhi Kehn ton Paihlan Sharm Kar Lao Koi Maadi Moti .. https://t.co/4m4Ysgv7Qh "rel =" nofollow

– DILJIT DOSANJH (@diljitdosanjh)
December 16, 2020
Actually before this, Kangana had said, "I want @diljitdosanjh and @priyankachopra ji, who are seen in the role of local revolutionaries for the farmers, tell the farmers what to protest against them through at least one video , Both have disappeared by provoking the farmers, and look at the condition of the farmers and the country. ' Diljit also wrote, 'I am missing the proverb of a Punjabi … You .. Who are you? I am silent
Download Jagran app and get job alerts, jokes, shayari, radio and other services with all news of news world