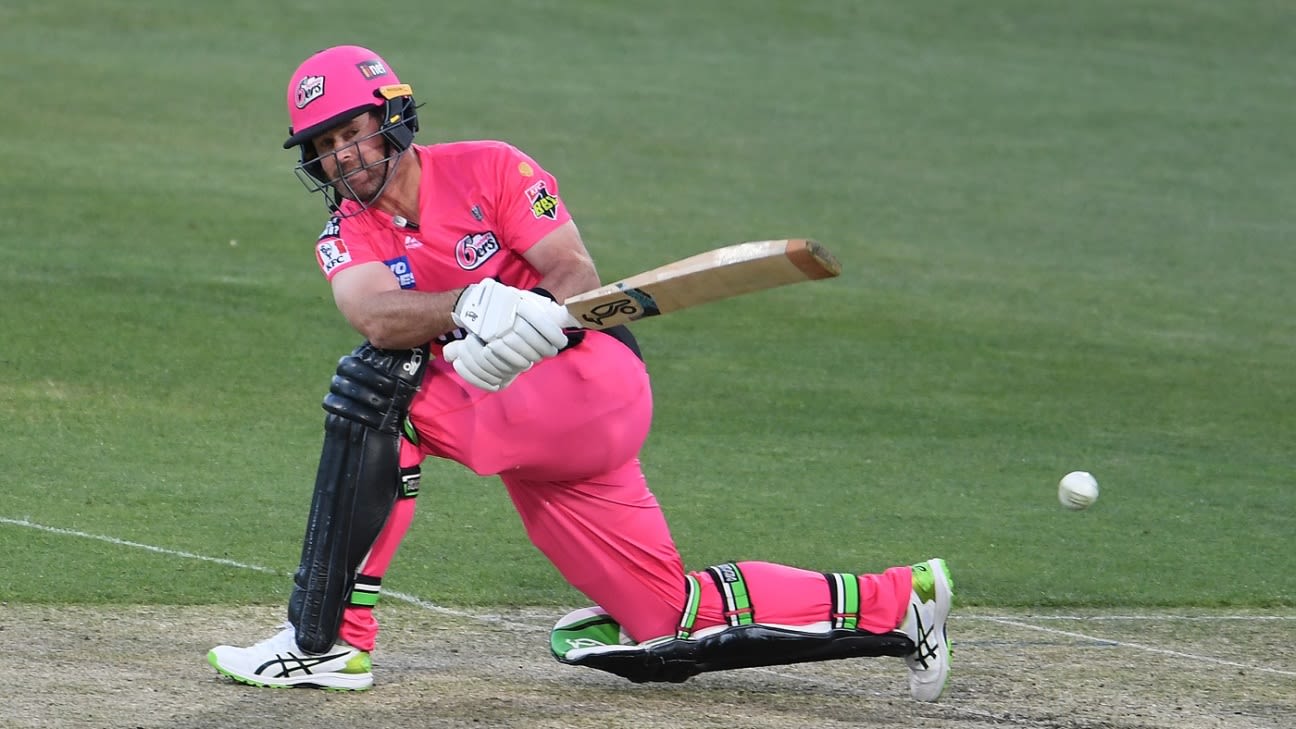 report
The Sixers looted 125 of their last 10 overs after a great opening spell from Dan Worrall
Sydney Sixers Hit 5 for 177 (Christian 50, Hughes 46 *, Worrall 2-12) Adelaide strikers 7 for 139 (Wells 36, O'Keefe 2-8, Manenti 2-23) through 38 runs
A blistering half-century of 15 balls from Dan Christian, the second-fastest in BBL history, turned a lazy Sydney Sixers inning into a grand that was more comfortable against an Adelaide Strikers team who made things disappear in-game twice Winner Proved.
Dan Worrall scored an excellent 2 to 12 when the Sixers were held to 2 to 52 in the first half of their innings, but the second ten overs were sacked for 125. The Strikers decided to subdue Danny Briggs for the second time that season, bringing on all-rounder Liam Scott, but he went for 28 in two overs and then made 10 out of 12 deliveries.
The Strikers' response started well with an opening score of 52 in 4.3 overs, but the innings fell sharply as offspinner Ben Manenti bowled economically and claimed two major wickets. However, Worrall's early good work and quick start to the chase resulted in the Strikers claiming the bash boost point within five overs.
Worrall's new ball wobbles
For significant portions of Worrall's four overs, the Sixers batsmen couldn't put a bat on him. The 18 point balls he sent down were the most in his BBL career. Seeing he was doing so well, Captain Alex Carey gave him his four overs straight away and it was key to keeping the Sixers down to 2 for 52 out of 10 overs. He hit Josh Philippe three times in the opening and was rewarded with his wicket when the opener tried to invent a ball and was caught by a glove, although Philippe didn't look impressed. He pushed the ball past Jack Edwards and James Vince, removing the former when Edwards made a thick incision into Carey.
Christian's game changer
After hobbling for 61 to 3 in 12 overs, the Sixers changed in a flash with a wonderful portrayal of Christian. He took 22 out of Scott's second and then Rashid Khan, who was held back until the tenth, was taken for 16. Three limits the next against Wes Agar (the first of the Power Surge) put Christian to his 15-ball half-century, second only to Chris Gayle's 12-ball performance in BBL history. However, Christian fell the next delivery. A couple of reasonably quiet overs followed, but Jordan Silk, Daniel Hughes and Jason Holder, who started his first delivery in the BBL for six, all hit useful punches.
Manenti stops the strikers
Phil Salt and Jake Weatherald got the chase off to a flying start with the most productive 4-over power play (47) of the season to date. Holder's second over 18 cost Christian. Christian made the breakthrough when Salt got an inside edge in his pad that carried him to the wicketkeeper, but it was Manenti's last three overs (after his first cost 13) that really stopped the chase. He had caught Weatherald at a low point and then took Matt Renshaw off an awesome sweep when he won 2 for 10 on his second spell.
Long way short
In the middle of the chase, the Strikers had a chance, taking 102 balls out of 60 and the Power Surge up their sleeve, but were badly knocked back when Carlos Brathwaite hit one through Carey with his first shipment. Steve O'Keefe also struck in his first over when the Strikers quickly got away and the Surge only produced 16 out of the two overs. The second of these was bowled by Christian, using the wicket line and skillfully pushing the batsmen into place for an outstanding personal performance.
Andrew McGlashan is Associate Editor at ESPNcricinfo