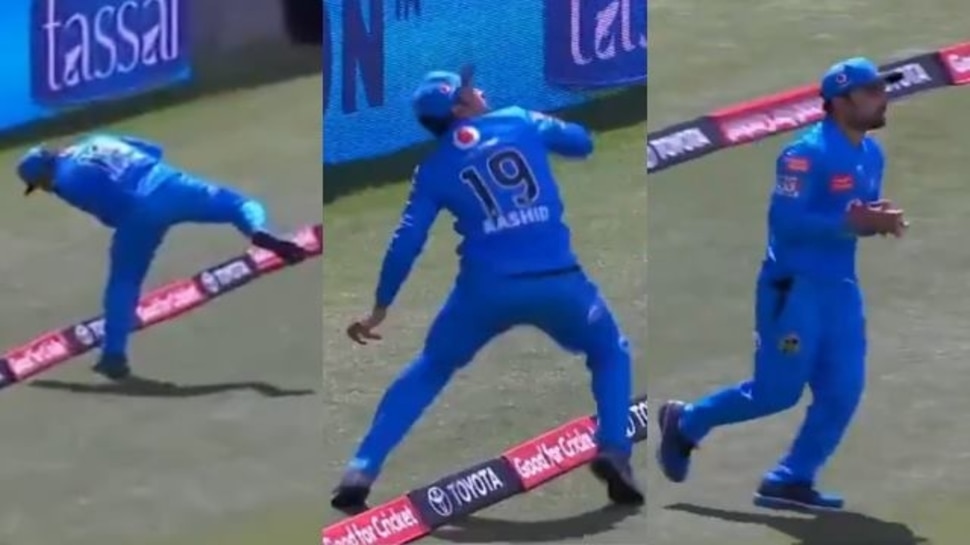 new Delhi: The tournament is progressing in a tremendous way with the great way in which the 10th series of the Big Bash League (BBL 10) was launched. The thrill is extreme in every match. Something similar was also seen in the match between Hobart Hurricanes and Adelaide Strikers. Adelaide's team may have lost this match, but Rashid Khan (Rashid Khan) won the hearts of all the fans.
Rashid caught a surprise catch
In the match, Rashid Khan (Rashid Khan) took a wicket blow for his team and at the same time he jumped on the boundary and caught the catch of Colin Ingram. Hobard's team was in a strong position in the match. This team scored 137 runs in 15 overs after losing 2 wickets. Peter Siddle was on the bowling and Ingram on the striker end. Ingram made a big shot off Siddle's ball but Rashid caught the boundary. Rashid's balance deteriorated after catching the catch and he was going beyond the boundary. But he tossed the ball towards the ground and later caught it again.
So good to have Rashid Khan back in Australia – because he does things like this! @BKTtires | pic.twitter.com/8qkofnlYop

— cricket.com.au (@cricketcomau) December 13, 2020
Seeing this magnificent catch, all the people sitting on the field were surprised. The video of Rashid's catch on social media is becoming increasingly viral and fans are very fond of it.
Hobard 11 Won the match by runs
In the match Adelaide Strikers won the toss and decided to bowl first. Batting first, Hobart Hurricanes put 174 runs on the board in 20 overs. In response, Adelaide's team could only manage 163 runs and lost the match by 11 runs.