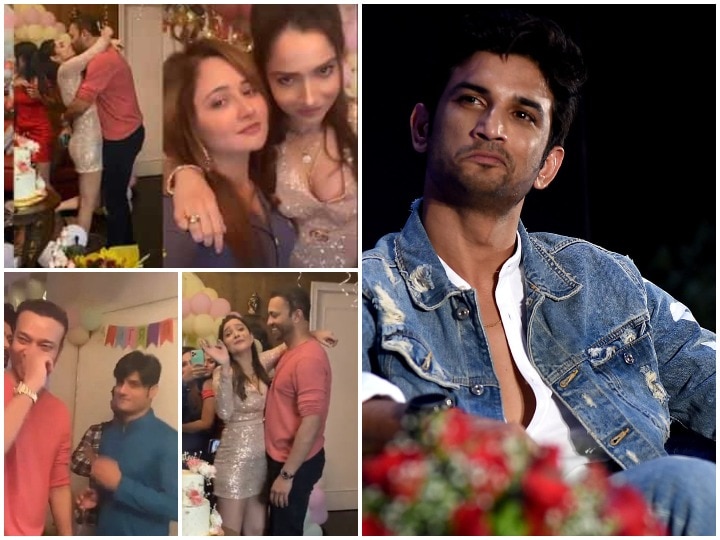 Actress Ankita Lokhande celebrated her 36th birthday on Saturday. All the inside pictures and videos of Ankita's birthday celebrations are becoming viral on social media. Meanwhile, a video came out after seeing that the anger of Sushant's fans is spreading on Ankita. In fact, Ankita's boyfriend Vicky hosted a fabulous birthday party for the actress in which all the celebs attended. In such a video, Sandeep Singh, friend of Sushant Singh Rajput, is seen in this party, his fans are not liking it at all.
Actually, Ankita Lokhande has shared pictures and videos of her birthday celebrations on social media. But there has been a ruckus on social media regarding one of these videos. In this video clip, Sandeep Singh, friend of Sushant Singh Rajput, is also seen in blue kurta while having fun during the party. Now people are asking Ankita why Sandeep Singh was called to this party? See Sushant Singh Rajput's reactions here
No doubt why Sushant left you @ anky1912 … Shame on you Ankita you are celebrating your birthday with the person whose role is suspicious in SSR case…# IndiaRoars4SSR pic.twitter.com/q5sGwiV7gN

– Anwesha Pandey # 2YearsOfSSRAsMansoor ???? ♥ ️ (@I_am_SSRian) December 20, 2020
Happy birthday Ankita ji
Enjoy your birthday with your love ones

(Thank you for showing your real face)# IndiaRoars4SSR pic.twitter.com/zVNLgvojn8

— Divya ????Justice For SSR ???? (SSRF) (@Divya4SSR) December 19, 2020
You can see how people are asking this thing by tagging Ankita. This is the reason that Ankita #Ankita is currently trending on Twitter. The special thing is that on these videos, Shweta Singh Kirti, sister of the late Sushant Singh Rajput, has also made Ankita special.
Why Sushant's fans are angry with Sandeep
Remind that it is the same Sandeep Singh who calls himself Sushant's friend. Sandeep Singh's name has been in the headlines in the Sushant Singh Rajput case. Soon after Sushant's death, Sandeep Singh was seen in every picture of his action and at the Cooper Hospital in Mumbai. Sandeep's name was also very much discussed in Sushant's Murder Mystery. In such a situation, Sandeep's arrival in Ankita's party is passing on to fans.
read this also:
In Pics: Husband Clicks on Honeymoon Such pictures of Sana Khan, are going viral on the Internet
In pics: Arbaaz Khan's girlfriend Giorgia's bikini pictures viral after Malaika Arora, these tattoos in small clothes