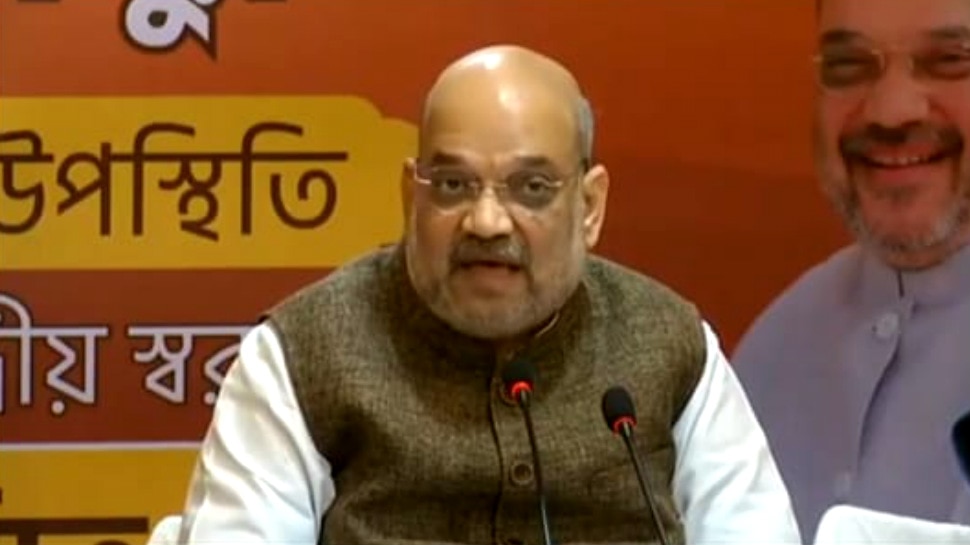 Kolkata: Home Minister Amit Shah, who arrived on a tour of West Bengal, fiercely attacked Mamata Banerjee on the second day. Recently, he called the attack on the convoy of BJP President JP Nadda (JP Nadda) an attack on democracy. During this time, he also gave a befitting reply to the TMC's attempt to make the issue 'outer vs inner'.
Answers on outsiders
Amit Shah (Amit Shah) Said that this time the BJP (BJP) government is going to be formed. There is a wave of change. The people of West Bengal now want change and they want freedom from political violence, corruption, extortion and Bangladeshi infiltration. He declared that BJP will give CM from the soil of Bengal. Mamata Banerjee (Mamata Banerjee) When asked by BJP leaders as outsiders, Shah said- Mamta was in Congress and Indira used to come here, Pranab da used to come. What did she tell them then? He said, I would like to say that no one needs to come from somewhere to defeat you. Only the person from the soil of Bengal will defeat you.
Democratic response to violence
Amit Shah said that BJP workers have decided that they will answer the violence democratically. The public has made up its mind to overthrow Mamata's government in Bengal. He said, we will form a government in Bengal with more than 200 Vidhan Sabha seats.
Also read: Kamal has blossomed in public's heart, Sonar Bangla's dream will come true: Amit Shah
Earlier, on Sunday in Birbhum district, Union Home Minister Amit Shah organized a grand road show with great enthusiasm, where he was warmly welcomed by the party workers. The roadshow in Bolpur started from Hanuman Mandir on Stadium Road and continued till Bolpur Circle. There was a festive atmosphere on the occasion of Amit Shah's arrival in Bolpur district dyed saffron. Thousands of Bharatiya Janata Party (BJP) supporters waved party flags on the streets and gave Shah a grand welcome this afternoon.
Also Read: West Bengal Elections: BJP Made This Mega Plan For Bengal Fatah, Supporting Mother Kali With Shriram!
Shah held a rally in Bolpur after visiting Nobel Laureate Rabindranath Tagore's Visva-Bharati University. He paid floral tributes to Tagore at the Visva Bharati campus in Shanti Niketan. Shah also visited Shyambati in Birbhum, where Shah dined at his residence with the family of a bowl singer along with BJP state unit president Dilip Ghosh, national general secretary (in-charge of West Bengal) Kailash Vijayvargiya and national vice president Mukul Roy. did.
VIDEO