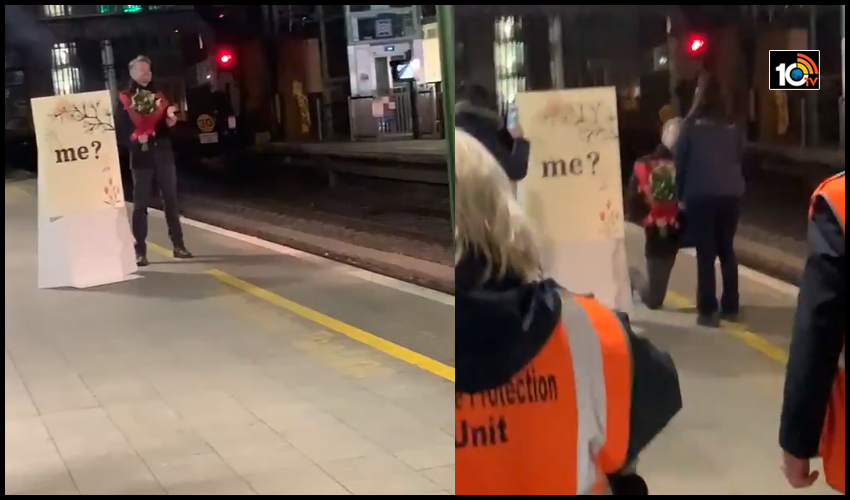 Ireland man proposes to train-driver girlfriend: The video of Will You Marry Me proposing to a young woman at a railway station is going viral on social media. Netizens are commenting that this is a wonderful proposal. Innovative proposal to the girl of choice is all the more impressive. The incident took place in Ireland. The person proposing is a train driver and the young woman is also working as a train driver. The incident took place in Ireland.
Conor O'Sullivan is from Dublin station and works as a train driver. He is in love with a girl named Paula Carbó Zea. She works as a train driver. He wanted to express his love for Paula anyway. Unlike everyone else, he decided to propose in an innovative way. He thought that the railway station where he was working would be better for this. At 9 o'clock at night, Connor went to the station and placed the letters 'Will You Marry' on each board on the platform. Bokeh holding a bottle of champagne at the last platform. Some started taking photos and videos.
Paula, who was driving the train at the time, was looking at the boards on the platforms. Surprised to see Conor at the last board. The train stopped and flew towards him. When Paula arrived he sat on his knees and proposed… 'Will you marry me'. As if admitting love..he got up and hugged her tightly. Everyone there doubled their happiness by giving carols. It was captured on camera by a man named Claude Maher. He posted the video on social media and wrote that it was a wonderful proposal made at Peelsey Station. The video went viral on social media.
Didn't think anything could perk me up after a busy 13hr shift, and some Gent goes and PROPOSES to his GF driving the incoming train at pearse station. 😍😍😭🙌🏻 @IrishRail #PearseProposal 1/2 pic.twitter.com/wIN0JHPvzV

– Clodagh Maher (lod Clodagh1990) December 15, 2020